Software and Summary
Razer's hardware strikes a lot of the right notes and Basilisk is also one of the company's first mice to take advantage of the Synapse 3 software utility currently in beta. Although optional - the mouse can be used as a plug-and-play solutions - the software opens the door to a wide range of customisation options.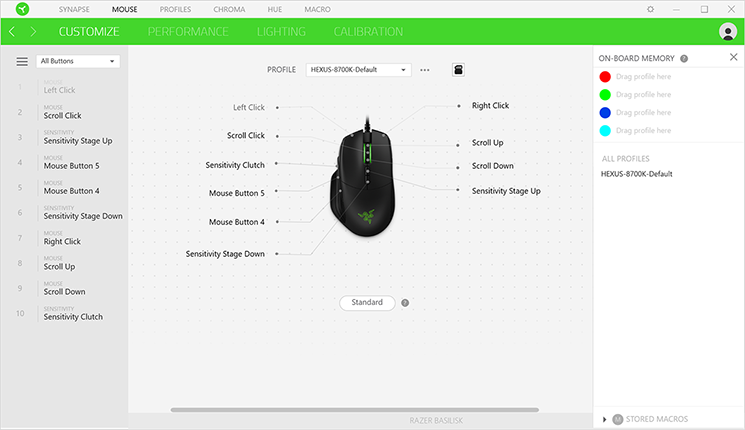 Gone is the old, dark and gloomy interface, with Synapse 3 adopting a lighter, airy feel. It's a good-looking interface, but there is one potential drawback in that only a small selection of Razer peripherals are currently supported by the software. We're told that support for older keyboard and mice is being added where feasible, but if you're rocking multiple Razer devices there's a good chance you'll have to juggle Synapse 2 and Synapse 3 on the same system. Hardly ideal, particularly if you want to synchronise lighting effects between all your gear.
Any connected and compatible peripherals are given their own tab, with Mouse leading straight to Basilisk's button configuration screen. All 10 controls (including scroll up and down) can be remapped with ease to just about any function you're likely to need. One new addition is Hypershift, which enables a single button to act as a Shift key, giving every other button a secondary user-defined function.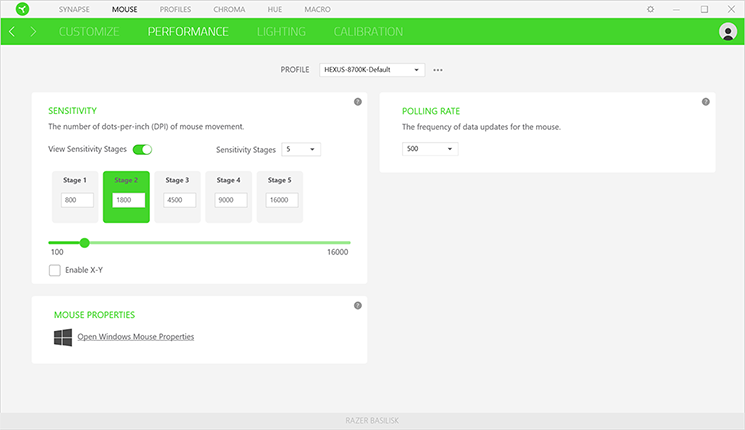 Another positive change is the way in which Razer stores profiles and settings. In keeping with Synapse 2, all data is uploaded to the cloud and tied to a user's account, but Synapse 3 also takes advantage of Basilisk's built-in memory. Four profiles can be saved to the device, making it easy to maintain your remapped buttons and macros when using the mouse on another PC. A switch on the underside of the device allows you to toggle between profiles when Synapse isn't present.
The DPI customisation options you would expect are all present and accounted for, as is a comprehensive macro recording engine, and lighting can be controlled either using simple options for the one device, or the wide-ranging Chroma module for synchronised effects between multiple peripherals. It is easy to view the illumination as merely a gimmick, but with Razer now offering integration with Philips Hue, Chroma is quickly becoming an immersive option for PC gamers.
Conclusion
Razer set out to create the world's most advanced FPS gaming mouse, and credit where it's due, Basilisk is a contender.

Razer set out to create the world's most advanced FPS gaming mouse, and credit where it's due, Basilisk is a contender.

Stylish to look at, well proportioned and suitably nimble, the £65 mouse comes equipped with a high performance optical sensor, Chroma RGB illumination and a couple of extra features that add genuine value. These include an advantageous Clutch button, customisable scroll wheel resistance, and secondary button assignments via Hypershift.

We'd liked to have seen a dedicated DPI indicator LED, and owners of older Razer devices will be frustrated to learn that Synapse 3 isn't able to serve as a single front-end for all of their gear, but these are minor niggles in what is ultimately a well-rounded FPS mouse.

The Good

The Bad

Comfortable and light form factor
Well implemented Clutch button
Hypershift could be useful
Excellent all-round performance
Customisable scroll wheel resistance

Fragmented Synapse software
No DPI indicator LED




Razer Basilisk




HEXUS.where2buy

The Razer Basilisk gaming mouse is available to purchase from Amazon and Overclockers.

HEXUS.right2reply

At HEXUS, we invite the companies whose products we test to comment on our articles. If any company representatives for the products reviewed choose to respond, we'll publish their commentary here verbatim.