Epox SiS 645 4SDA
Epox SiS 645 4SDA Motherboard review
Introduction
We've recently witnessed a proliferation of motherboards for the Pentium 4. Amongst the key players are naturally Intel themselves, with their I850, I845D and I845 chipsets respectively, offering 'boards based on different memory solutions. VIA and SiS are seeking to take a piece of the Pentium 4 pie with their DDR equipped motherboard solutions.
Silicon Integrated Systems (SiS) have successfully released an Intel S478 DDR based reference motherboard in the guise of the SiS 645 chipset, one that naturally borrows quite heavily from their SiS 735 chipset for the Athlon.
SiS' DDR solution is unique in the fact that it offers direct support for DDR200 / DDR266 and DDR333 memory. The latter isn't a JEDEC approved specification yet, that should change in the near future. The Pentium 4, with its quad-pumped front side bus, capable of utilising up to 3.2GB/s, is ideally suited to be paired with hi-speed DDR, it positively thrives on memory bandwidth.
SiS' approach has always been one of supplying motherboard manufacturers with low-priced chipsets, who in turn can produce 'boards that retail for well below the price of competing solutions. The low price, coupled with PC2700 support, should translate into a fine addition to the Pentium 4 motherboard lineup.
Today we're looking at Epox's SiS 645 offering in the form of the Epox 4SDA. Epox is a relative newcomer to the motherboard scene having been established for just over 7 years. Their popularity has surged of late due in most part to their overclocker-friendly Socket A motherboards, specifically the 8K7A (AMD 760 chipset) and 8HKA+ (KT266A) respectively. These boards offered voltage adjustments rarely witnessed before. Coupled with a performance-orientated BIOS, their performance was well above average.
Epox have also branched out into the Pentium 4 motherboard arena by offering 'boards based on all of Intel's platforms, again the emphasis has been on performance. We'll see if the 4SDA can continue this tradition. Let's have a look at the 4SDA in a little greater detail.
Specification
Processors
Supports Socket 478 for Intel Pentium 4 processors

Supports 1300MHz up to 2400MHz+ processor and higher
Chipset
North bridge: SIS 645 Open Architecture DDR333 Chipset

South bridge: SiS 961 MuTIOL Chipset with 533MB/s 16-bit bus
System Memory
3 x 184pin DDR

DDR200 / DDR266 / DDR333 support @ 2.5v

3GB maximum system RAM (Non-ECC only)
Slots
One AGP slot, 4x compliant

6 x 32-bit PCI slots
On-board peripherals
1 floppy port supports 2 FDD
2 serial ports
1 parallel port
PS/2 Keyboard
PS/2 Mouse
Audio Port
Game Port
2 x USB 1.1 connectors on-board. (Support for a total of 6 )
On-board IDE
An IDE controller on the SiS961 chipset provides IDE HDD/CD-ROM with PIO, Bus Master and Ultra DMA100/66/33 operation modes
Can connect up to 4 IDE devices
Audio
Built-in AC97 Digital Audio
Form Factor
BIOS & Voltages
Award BIOS
FSB speeds of 100Mhz - 200Mhz selectable in 1Mhz increments (quad-pumped)
1.475v - 1.85v Vcore adjustment in 0.025v increments, a further 0.175v over-voltage by use of jumpers.
2.50v - 3.20v Vmem adjustment in 0.1v increments
1.50v - 2.10v VAGP adjustment in 0.1v increments. (2.20v by jumper)
Software
PC-Cillin 2000 Anti-Virus Software
Norton Ghost 2001
SiS AGP Driver
Bundle and presentation
Our 4SDA arrived in Epox's trademark blue box. The graphic on the cover is simple and elegant, it seems as if Epox are content with the no-frills approach of packaging, although we have seen their new KT333 Athlon XP solutions ship with a more vibrant, stylish box.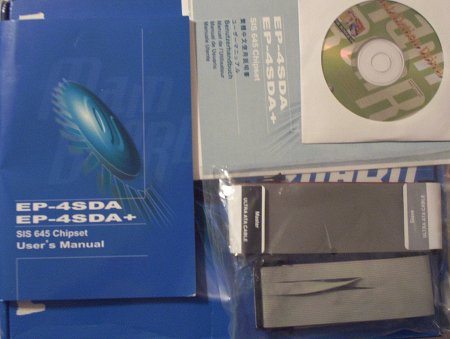 The board itself is packaged with an instruction manual, a quick start guide in several languages, IDE leads in the form of one ATA100 and one floppy lead, and a utility CD. Our 4SDA didn't contain the optional USB bracket or ATA33 IDE lead.
As has been mentioned before, we would have liked to see another IDE lead included as standard, thus making the initial connecting of all your IDE devices that little bit easier. The main manual is comprehensive enough, but gives you the impression that it was authored by someone whose first language probably wasn't English. It was slightly difficult to follow at times.
The software bundle contained the ever popular Norton Ghost 2001 drive imaging software, essential for us as we constantly change motherboards and need to back-up partitions for future use. Also included is the useful PC-Cillin anti-virus software. Additional drivers were present , too, although not needed as we used Windows XP, which installed the required drivers without needing our intervention.
Overall, we're slightly disappointed with the bundle, we'd hoped to have a little more in the way of included extras.
Layout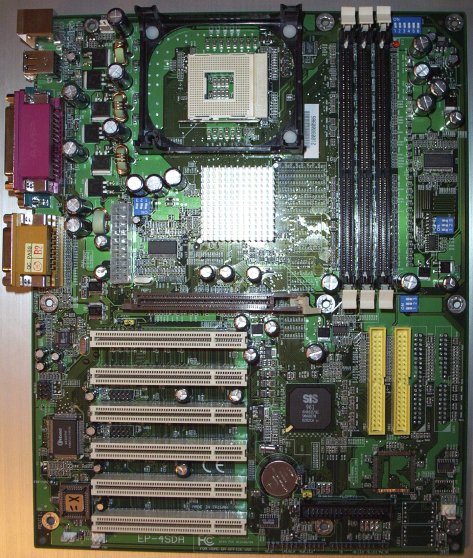 As is our customary tradition here at Hexus, we'll start at the top and work our way down. The first thing to note is the rotated ZIFF socket, the first one we've seen on a P4 S478 'board. From a heatsink mounting point of view, this makes very little difference. The area immediately surrounding the socket retention bracket is free from impeding capacitors, thus making the installation of HSF's a breeze. The CPU fan header is located just to the left of the retention bracket.
As you can see, there are a bank of dip-swtiches just to the right of the DDR slots. These manually control the voltage applied to the CPU. Their various combinations of on / off give you a choice of between 1.475v and 1.85v respectively (as shown below).

The various combinations required are etched on to the board (located just to the right of the passive North bridge heatsink. The relative coolness of the passive North bridge heatsink is testament to how cool the NB runs. As you may have discovered, there is no specific P4 12v connector on this particular motherboard, again, a first for us.
The main ATX connector is located in a rather odd place half way down the board. This could cause problems if your ATX lead is rather short, especially as the bundle of wires will have to trail over the CPU heatsink, thereby disturbing the airflow. The 3 dip-swtiches next to the ATX connector control the CPU over-voltage options, allowing you to add a potential 0.175v to the 1.85v available as standard. You'll need to invest in adequate cooling if you're planning on utilising these switches.
The bank of 3 dip-switches on the right of the 'board control voltage adjustment to the system RAM. The standard 2.5v to a mind-numbing 3.2v is available. We'd make some provision for memory cooling if running at anything over 3v. To Epox's credit, the manual clearly spells out the associated dangers of overclocking. The remaining 3 dip-switches control the AGP voltage adjustment.
We're glad to see 6 32-bit PCI slots make an appearance, so often motherboard manufacturers sacrifice one in favour of the rather redundant CNR slot. A little jumper sits astride the AGP and first PCI slot, it governs the CPU clock ratio, either 100FSB, 133FSB or auto. I have relatively slim fingers and found it quite difficult to access, it could have been put in a more accessible location.
The floppy connector is located at the very bottom of the board, a place that I personally favour. As you can see, the IDE RAID ports are silk-screened as we received the non-RAID version. The clear CMOS jumper is in an awkward position, too, the proximity of the floppy connector and CMOS battery make it quite difficult to remove. Our review board wasn't equipped with Epox's debugging LED. Two usable fan headers make their appearance at the bottom of the board.
The overall board layout is acceptable, although we have a few niggles about the placement of important jumpers. The problem of not being able to insert or remove DIMMS from the first two memory slots, whilst the AGP card is in position, has found its way on to this board too.
Features and Installation
In the past we've alluded to the fact that the SiS 645 chipset equipped motherboards are rather sparse on the features front. The chipset doesn't support new technologies such as USB 2.0 or ATA133 inherently. The onus is on motherboard manufacturers to integrate these extras by way of additional chip sets.
Our sample 'board contains none of those aforementioned features, although a RAID equipped model does exist in the Epox range. The frankly amazing range of voltage options could be considered a feature almost unique to Epox. Unfortunately, our particular 'board shipped with the AC97 codec, one that barely passes for on-board sound. Something along the lines of the CMI 8738 or Realtek ALC650 on-board sound solutions would have been most welcome.
We have to say that we're somewhat disappointed by Epox's lack of features on this particular model.
Installation was a breeze with no untoward incidents to report. Windows XP picked up the various components without difficulty.
BIOS, stability and overclocking
Much like Abit, one of Epox's fortes has been flexible BIOS' that cater for the overclocker. Epox's customary Award BIOS makes an appearance on the 4SDA. We've seen that the 4SDA has a multitude of voltages adjustable by the manipulation of certain dip-switches. A large proportion of those adjustments can be replicated in BIOS.
Front Side Bus options can be set from the default of 100 to an improbable 225FSB in one MHz increments, perfect for those that wish to fine-tune their overclocked speeds. We've reviewed the 4SDA with a BIOS dated 01/12/2002, a newer BIOS is available that changes the appearance of certain timings, we've stuck with the older BIOS as it offers a slightly better performance all-round.
Much like the MSI SiS645 motherboard, the DRAM timings and ratios are somewhat complicated, again a table should explain the various speeds available.
| | | | |
| --- | --- | --- | --- |
| FSB | PCI Bus Speed (Mhz) | FSB:Mem ratio | Possible memory speeds |
| 100 - 119 | 33.3-39.6 | 1:1 | 100 - 119 |
| " | " | 3:4 | 133 - 158 |
| " | " | 3:5 | 167 - 198 |
| 120 - 160 | 30 - 40 | 4:3 | 90 - 120 |
| " | " | 1:1 | 120 - 160 |
| " | " | 4:5 | 160 - 200 |
| 160 - 200 | 32 - 40 | 5:4 | 128 - 160 |
| " | " | 1:1 | 160 - 200 |
We believe the above to be correct when running CPU jumper in the auto position. You can manually select a 4:1 FSB:PCI divider by choosing the 133FSB CPU jumper position.
With our BIOS, voltage options can be manipulated as follows: Vcore 1.40 - 1.85v in 0.025v increments, Vmem 2.50v - 3.20v in 0.1v increments and VAGP from 1.50v - 2.10v in 0.1v increments. This is the broadest range of options we've ever seen on a S478 motherboard, kudos to Epox for including them, The CPU extra over-voltage options are only available by jumper.

Our BIOS allows memory timings to be manipulated via various modes, 'Safe', 'Normal', 'Fast', 'Turbo' and 'Ultra' modes on offer. CAS latency can be either 2T, 2.5T or 3T, with 2T being more performance orientated. DRAM command rates can be either 1T or 2T. We've chosen the strictest timings possible for maximal performance.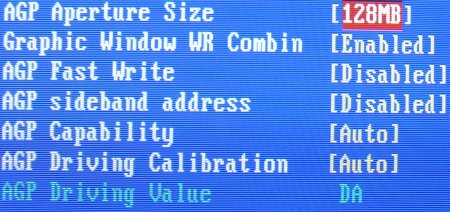 Various AGP options can be manipulated, too. AGP fast writes and sideband addressing can be turned on. Epox have certainly geared the BIOS towards the performance user. The usual gamut of options are present. We're big fans of Epox's BIOS' and the 4SDA continues the tradition of extensive manipulation.
We used Samsung DDR333, Corsair XMS2700 and Crucial DDR333 Engineering Sample memory for testing purposes. The 4SDA worked flawlessly with each stick in both DDR266 and DDR333 modes. We had to raise the voltage on the memory for the Corsair and Crucial sticks to run at the most aggressive timings when using DDR333. Our ample voltage adjustment ensured that each stick was able to complete our benchmarks at either DDR266 or DDR333 with the utmost aggressive timings.
The 4SDA was left running SETI and Prime 95 concurrently over a 16 hour period. We had a single crash in that time, Prime95 closed without good reason. It is difficult to pinpoint the culprit in this case. As we've not had this problem on other motherboards, this could well be peculiar to our test 4SDA 'board. Even with this in mind, we feel that the 4SDA is a solid 'board.
A motherboard that supports such voltages practically begs to be overclocked. We used our highly overclockable 1.6A Northwood, one that has been good for 160FSB on other 'boards. We tried various options but were only able to raise the FSB to 146. We could run at this speed with excellent stability. Any higher and we would receive unexplained errors. The fact that it can run at 133FSB literally validates it for use with the upcoming Northwood 'B' processors, ones that run at 133FSB natively.
System Setup
Here's a quick rundown of the test system should you wish to compare our benchmarks with your own.
Intel 1600Mhz S478 Northwood CPU
Epox 4SDA, run in both DDR266 and DDR333 modes (BIOS 01/12/2002)
256MB Samsung DDR 2700, run at CAS2
MSI SiS 645 Ultra ARU (run in DDR333 mode (BIOS AMS6547SPS.150)
Common components
Leadtek Geforce 3 Ti 500 clocked at stock speeds of 240/500
120GB Western Digital 120JB 7200rpm hard drive with 8MB cache.
Liteon 32x12x40 CDRW
Liteon 16x DVD
Samcheer 420w PSU
21" Sony G500 FD monitor
D-Link FE530TX NIC
Sonic Fury Soundcard
Lian-Li PC60 Aluminium Case
Software
Windows XP Professional Build 2600.xpclient.010817-1148
Detonator XP 23.12 drivers
Sisoft Sandra 2002 Professional
Pifast v41
XMpeg 4.2A DVD encoding, Div3.11 codec
PCMark 2002
3D Mark 2000
3DMark 2001SE
Serious Sam 2 Demo
Quake 3 v1.30
All benchmarks were conducted at 1024x768x32 100Hz with vertical sync' disabled. Benchmarks were run 3 times consecutively, an average score was taken. Both systems were configured for maximum performance.
Due to the use of some excellent Samsung DDR333 RAM, we were able to run the most aggressive memory timings for the Epox 4SDA in both DDR266 and DDR333 modes A fresh installation of Windows XP was used in both instances. We've also decided to use a 1.6A Northwood because firstly it allows us to test the maximum FSB attainable on the Epox, and secondly, gives us a direct comparison with MSI's SiS645 offering, the MSI 645 Ultra.
Benchmarks
We'll begin proceedings with SiSoft Sandra's memory benchmark. This highlights, albeit in a synthetic way, the amount of buffered bandwidth available to the processor. Higher bandwidth is usually reflected in greater overall performance. I say usually because other factors can come into play, latency for one. Anyway onto the benchmark results.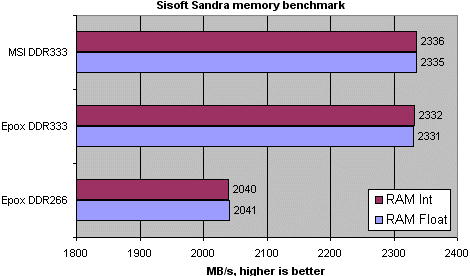 We expect to see, and do see, the Epox trailing when run in DDR266 mode. The DDR333 benchmarks are extremely close, suggesting that the memory optimisitions available on both motherboards, at least from a SiSoft Sandra point of view, are equally efficient. It's always pleasing to see parity in this benchmark from competing 'boards.
Let's move on to Pifast. We're conducting our usual test to 10 million places using the fastest method possible. We've previously established that Pifast is sensitive to both CPU speed and memory bandwidth respectively. Let's see how we get on here.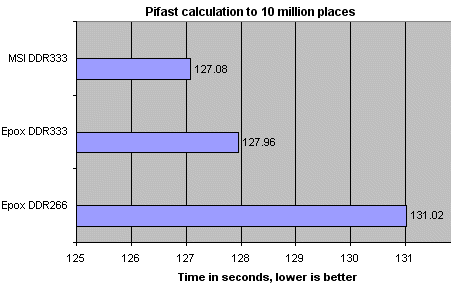 Here is the first slight surprise. We fully expected that the Epox, when run in DDR333 mode, would keep some sort of parity with the MSI 'board. The difference of just under a second is not vitally important, but is statistically significant. We ran the benchmark numerous times and can be quite sure that the results are correct. As you can no doubt see, going from DDR266 to DDR333 yields impressive results, far greater than the disparity between 'boards. That's what we like to see.
DVD encoding is another popular pastime of our readers. Even with today's powerful processors, we still have to wait a considerable time before a 'DVD-rip' is complete. Any reduction in time would be more than welcome. As you may know, we're using a custom VOB file from Three Kings DVD and converting it into DivX using Xmpeg 2.0 and the Div 3.11 codec. The DVD is rendered in it's original resolution of 720x576 with the black borders being cropped to avoid unnecessary encoding time. Onto to results.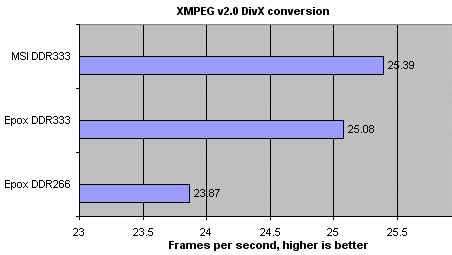 We're firstly pleased to see that the Epox, when in DDR333 mode, can break the real-time barrier of 25 FPS, only just though. Again, it trails the MSI offering slightly, perhaps setting a tone for benchmarks to come. Our calculations show that just a shade over 6 minutes can be saved from the encoding time of a 2 hour movie when simply changing memory modes, a very real and practical benefit for DDR333 (PC2700) memory on a SiS 645 P4 platform.
A new addition to the benchmarking-suite is recently released PCMark 2002 from MadOnion. It consists of a series of tests that represent common tasks in home and office programs. The benchmark is split into three constituent parts which focus on the CPU, memory and hard drive(s) respectively. PCMark 2002 seeks to do for home and office applications benchmarking what 3DMark does for video card benchmarking. You're given a final score for each part mentioned above.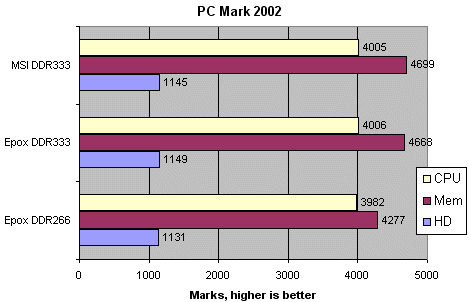 We like to see consistency, we find it here. The hard drive scores show that they are largely unaffected by the change in motherboards. The CPU scores can be considered to be equal, too. We also see an appreciable rise in memory scores as we go from DDR266 to DDR333. For all intents and purposes, the MSI and Epox offerings can be considered identical when considered from PCMark's point of view.
The performance of the Epox thus far has been acceptable when run at DDR266 and just a shade behind the compared MSI SiS 645 Ultra when run at DDR333. Let's now turn out attention to gaming, and see if the Epox can still put up a commendable performance.
We'll start off with our old favourite, 3DMark 2000. I've chosen to include this as a significant proportion of today's games are still are still run under DX7. The benchmark is as valid today as it was when released.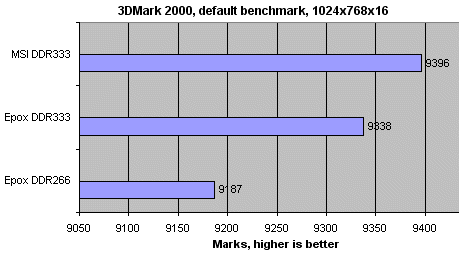 We see our recurring theme present itself here. The Epox shows a reasonable increase in performance when simply switching DDR modes, and continues to lag slightly behind the MSI for sheer performance. The performances differences that we are discussing here are minimal. Let's divide the scores by 100 and call them frames per second in a real game. The MSI would be in front at 93.94 FPS, the Epox would post a score of 93.38 FPS. I personally can't tell the difference between 85 and 95 FPS respectively, let alone a difference of less than 1 FPS. We should bear this in mind when comparing benchmarks that are as close as these.
On to 3DMark 2001SE, the newest variant of the popular Direct X benchmark. 3DMark 2001SE exacts more of a toll on the graphics card due to its implementation of pixel and vertex shaders respectively. General throughput from CPU / memory is still as important as ever.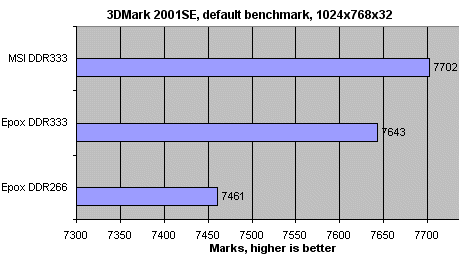 We see a larger percentage difference in scores when going from DDR266 to DDR333. The increased geometry of certain tests really does push the memory subsystem hard. Commendable performances all-round.
Next up is Serious Sam 2, the lovely FPS from Croteam. We've benchmarked the Valley of the Jaguar demo, one that has proven to be extremely sensitive to memory subsystem changes at 1024x768x32 Normal settings. The demo is almost wholly CPU / memory limited, hence the relatively high resolution settings. This should show just how well the motherboard is able to utilise greater bandwidth.
Once again, the Epox shows a slight rise when changing DDR modes, a trend that is becoming increasingly familiar. Let's now conclude our performance comparison with the venerable Quake 3. We'll run in both 512 Fastest and 1024 Quality modes to firstly highlight throughput, and secondly to illustrate performance in a real-life games-playing resolution.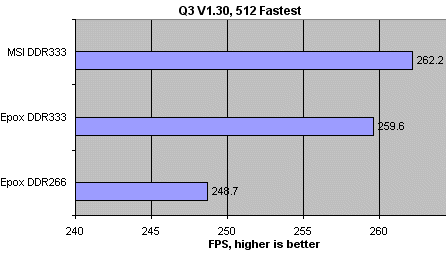 And now to 1024 Quality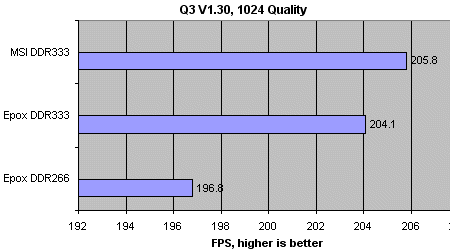 The fact that even at 1024 Quality, the difference is less than 2 FPS, makes the motherboards literally equal in our eyes. Quake 3 becomes more card-limited as we move up the resolution scales, meaning that scores will become closer and closer.
Conclusion
We have mixed feeling regarding the Epox 4SDA. We have come to admire motherboards that can do it all. We nowadays expect features, stability, overclocking and performance every time, such is the standard set by recent reviews.
The Epox 4SDA is rather barren on the features front. We didn't have RAID (athough the 4SDA+ does), decent on-board sound or additional features such as USB 2.0. We can appreciate that the SiS645 chip set equipped boards are targeted at the budget-conscious user, but we're still disappointed that it doesn't support any of the aforementioned extras. The general layout of the board is good, however.
Where Epox are to be wholeheartedly congratulated is in their thought and implementation of overclocking options. The 4SDA has amongst the broadest range of options ever seen. You can either manipulate the options by jumper or from within BIOS, a handy touch. The voltages on offer, without any need for further modification, include Vcore up to 2.025v (when using the over-voltage jumper), DDR voltage up to 3.2v and AGP voltage up to 2v. We'd go so far as to say that these are almost extreme options, options that will delight those who practice in overclocking.
Performance was adequate at stock speeds. The Epox 4SDA put up a decent showing in our gamut of benchmarks. It could not quite surpass the benchmarks laid down by the MSI 645 Ultra. The differences, however, were negligible when considered from a real-world perspective. We're sure that something as simple as a performance BIOS release can ensure performance parity amongst our tested motherboards.
Our test sample ran at 133 FSB without any difficultly whatsoever, suggesting that it is more than capable of running the soon to be released Northwood 'B' P4s, ones that run on a native 133 FSB (600Mhz QDR). Stability was excellent, too.
A slightly more feature-rich 'board, together with improved performance would have seen the Epox near the head of our Pentium 4 motherboard recommendations. As it stands, we find it difficult to recommend the Epox 4SDA to those looking for a complete package. If, however, your emphasis is more geared towards overclocking, the Epox 4SDA may just be the motherboard for you.
Pros
Excellent overclocking potential through an impressive range of voltage adjustment options.
DDR 333 support, lets you get the most out of DDR at stock speeds.
Stability: excellent.
Performance, although not as fast as the MSI 645 Ultra, the Epox 4SDA, when run in DDR333 mode, is still faster than any I845D motherboard we've tested.
Cons
Not the most feature-rich motherboard we've ever seen

Relatively weak bundle.

Availability: Epox motherboards are not always that easy to find in the retail channel.

Price: Not as cheap as other competing SiS 645 options, street price of around £90+.