EPoX launching new range of high-end boards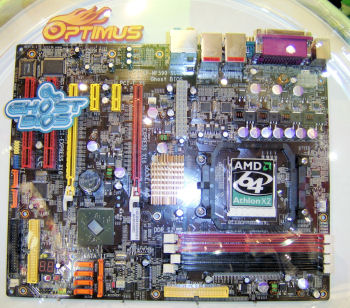 EPoX is making it easy for user to recover from a corrupted BIOS. Using its Ghost BIOS technology, resident on the EP1308 I/O chip, you will be able to recover from a BIOS corruption by simply booting from a floppy or optical drive. The corrupted BIOS is then flashed to a working version via the company's Thunder Flash program, and, optionally, updated through the online Magic Flash utility.

We saw it in action at EPoX's booth and can confirm its simplicity and ease of use.

EPoX' high-end motherboards will ship under the 'Optimus' banner, and motherboards carrying the name will appeal to gamers and enthusiasts who require extensive BIOS-tinkering options and a glut of features. We reckon EPoX's nForce 590 SLI, shown above, looks pretty neat.