Introduction
The last of the Fermis?



Think of NVIDIA's Fermi architecture and the big beastie that's the GeForce GTX 480 springs to mind. The range-topping GPU is only one of six current Fermi-derived desktop products available, as the range has been fleshed out with the GTX 470, GTX 465, GTX 460, GTS 450 and, rather quietly, the OEM-only GT 420.

Common sense informs the savvy reader that NVIDIA hasn't quite brought Fermi to bear for all price points, then. There exists a rather large gap between the OEM GT 420 and partner-produced GTS 450. This is now filled by the DX11-compliant GeForce GT 430. Let us explain how NVIDIA got to it by trotting out the GTS 450's block diagram.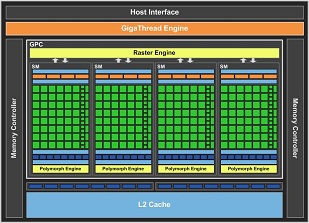 GTS 450 (as shipping)
This is the high-level design of a shipping GTS 450. It constitutes a cut-down version of the full GF 106 architecture (GeForce GTX 460). Made up of four Streaming Multiprocessor units that are home to 48 shader processors and eight texture-units each, the card-wide tally is 192 SPs and 32 TUs. These are backed up by a total of 16 ROPs that are connected to two 64-bit memory buses and through to external GDDR5 memory. Keeping the GPU ticking along is 256KB of L2 cache. OK with that number overload?
Chop suey
With the aim of making Fermi cheaper for the GT 430 part, NVIDIA cuts right down the processing heart of the GPU and removes two of the SM units and, relatedly, 16 texture units - basically halving the computational power of the chip. One would expect a commensurate reduction in the memory bandwidth with a 64-bit partition deactivated, but NVIDIA keeps the 128-bit bus backend of the GTS 450 intact in the move to the new GPU. The ROPs though get a chop from 16 to four.
Do the math and you'll determine that the GT 430 has 96 shader processors, 16 texturing units and four ROPs that are connected to a 128-bit memory bus. The GPU's supplemented by 128KB of L2 cache, as well.
Making some comparative sense of it all, here it is stacked up against the GTS 450, AMD Radeon HD 5550 (GDDR3), HD 5670 and HD 5750 GPUs.
Graphics cards
NVIDIA GeForce GT 430 1,024MB
NVIDIA GeForce GTS 450 1,024MB
AMD Radeon HD 5550 1,024MB
ATI Radeon HD 5670 1,024MB
ATI Radeon HD 5750 1,024MB
Die size
0.58bn
1.17bn
0.63bn
0.63bn
1.04bn
Manufacturing process
TSMC, 40nm
TSMC, 40nm
TSMC, 40nm
TSMC, 40nm
TSMC, 40nm
General clock
700MHz
783MHz
550MHz
775MHz
700MHz
Shader clock
1,400MHz
1,566MHz
550MHz
775MHz
700MHz
Memory clock (effective)
1,800MHz
3,608MHz
1,800MHz
4,000MHz
4,600MHz
Memory interface and size
128-bit, 1,024MB, GDDR3
128-bit, 1,024MB, GDDR5
128-bit, 1,024MB,
GDDR5

128-bit, 1,024MB,
GDDR5
128-bit, 1,024MB,
GDDR5
Memory bandwidth
28.8GB/s

57.7GB/s

28.8GB/s

64GB/s
73.6GB/s
DirectX/ Shader Model
DX11, 5.0
DX11, 5.0
DX11, 5.0
DX11, 5.0
DX11, 5.0
Shaders
96
192
320
400
720

Single-precision GFLOPS
268.8

601.3

352

620

1,008
Texturing
16ppc bilinear
8ppc FP16

32ppc bilinear
16ppc FP16

16ppc bilinear
8ppc FP16

20ppc bilinear
10ppc FP16
36ppc bilinear
18ppc FP16

ROPs
4

16

8
8

16
GPixels/s throughput
2.8

12.5

4.4

6.2
11.2
GTexel/s bilinear
11.2

25.1

8.8

15.5

25.2
Multi-GPU
No
Two-way SLI
Two-way XFire
Four-way XFire
Four-way XFire
Connectors (native)
Dual-link DVI HDMI
VGA

2x dual-link DVI
Mini-HDMI
2x dual-link DVI
HDMI, DisplayPort
2x dual-link DVI
HDMI, DisplayPort,
2x dual-link DVI
HDMI, DisplayPort,
TDP (max)
49W

106W

39W
64W

86W

Retail price
£60 ($79)

£99 ($129)

£60 ($79)
£80 ($115)
£90 ($125)



Analysis



The decision to keep a 128-bit memory bus pays dividends for NVIDIA, because it means that slower-speed, cheaper graphics memory can be used without really hampering the card's bandwidth.

We suspect pricing is going to be closest to the Radeon HD 5550 GDDR3 and, on paper, the Radeon has the beating of the GeForce - comfortably so going by the specs.






It's not a gaming card per se, says NVIDIA



But these low-end cards aren't really about gaming prowess. Rather, they're upgrades over integrated graphics and serve as general purpose GPUs that are adept at handling multimedia tasks and HTPC apps. Both NVIDIA and AMD support audio bitstreaming of DTS-HD and Dolby TrueHD over HDMI (read Blu-ray playback). Reinforcing the non-gaming bias of the GPU is the lack of multi-GPU SLI compatibility.

Going by the numbers, the cheapest Fermi card that you can put your mitts on seems to provide a decent mix of specifications, features and price. NVIDIA wants you to think of it as a core component of a modern 'digital' PC- a good fit for a multitude of different types of computer - and there's some merit in this line of thought.



Pragmatism



The majority of GT 430 cards will be shipped to system builders for integration into fully-built-up PCs, according to NVIDIA. Partners will be given carte blanche at designing their own PCBs and cooling solutions, so expect to see passive models, half-height cards, and some weird and wonderful mini-heatsinks.

Segueing nicely, we take a look at an ASUS GeForce GT 430. Keep on readin'.