Asus Republic of Gamers had a series of new and interesting products to showcase at IFA. The new products roughly followed a pair of themes; firstly 3D printing enhanced designs, and secondly upgraded systems with Nvidia GeForce GTX 1000 Series GPUs. However, we already saw several Asus ROG systems get the latest Nvidia GPU treatment ahead of Gamescom last month.
Asus ROG 3D printing enhanced products
Particularly eye-catching among the Asus ROG IFA offerings is the ROG 3DMod PC build. It combines the latest Asus Aura RGB lighting technology with 3D printed parts for attractive customisations.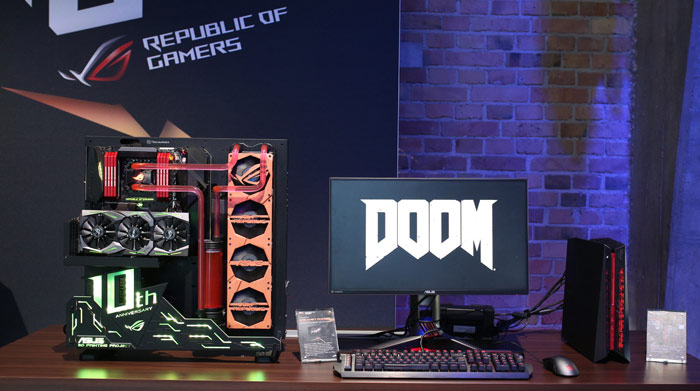 As displayed, the ROG 3DMod PC featured a water cooling system, a ROG Rampage V Edition 10 motherboard, a ROG Strix GTX 1080 graphics card, and further RGB strips. Asus 3D printed a ROG 10th anniversary logo front panel, fan shrouds and cable management motherboard cover. You can see the result directly above.
Other 3D print enhanced products by Asus ROG are the ROG Claymore mechanical gaming keyboard, and ROG Spatha gaming mouse which can be accessorised by various 3D printed bits, if you feel like it.
Asus ROG XG Station 2
Asus has updated its original XG Station with this new external GPU offering. The ROG XG Station 2 can "turn your Thunderbolt 3-enabled laptop into a VR-gaming powerhouse," says Asus. It is fitted with a 600W 80PLUS Gold power supply and supports the newest AMD and Nvidia GPUs. This enclosure features Aura RGB lighting which can be synchronised with your other Asus Aura gear.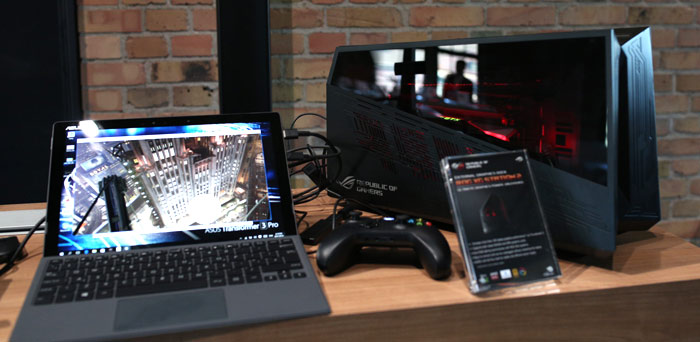 As well as its essential Thunderbolt 3 connector the ROG XG Station 2 handily features four USB 3.0 ports and a gigabit LAN socket.
Asus ROG desktops, laptops and monitors
A trio of desktops featuring 6th generation Intel Core processors are being showcased by Asus ROG. There's the top of the line ROG GT51 with Intel Core i7-6700K processor and Nvidia GTX 1080 in 2-Way SLI for 4K gaming. There's the ROG G20 compact 9.5-litre PC with Skylake i7 processor and up to the latest Nvidia GTX 1080. Then there's the ASUS G11 gaming PC, specced like the G20 but in a standard tower chassis. All these desktops feature eight-million-colour LED lighting effects.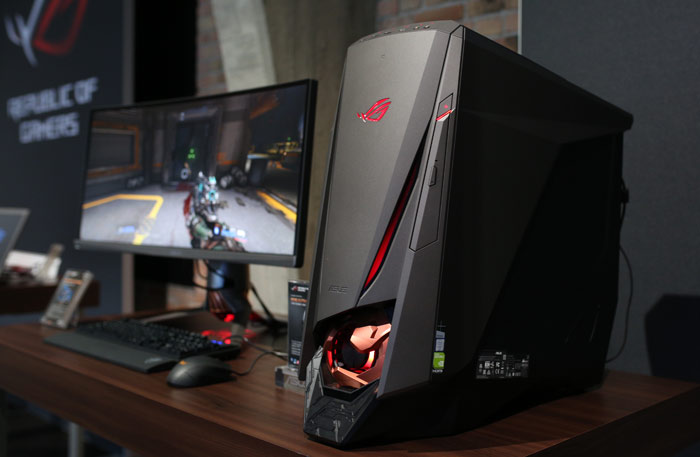 For laptops Asus ROG is showcasing the thin and light ROG G701VI. At 1.3-inches thick it is said to be the "world's thinnest gaming laptop to feature an Nvidia GTX 1080". It also features an overclockable Intel Core i7 processor and a 120Hz screen with G-SYNC support. Then there's the ROG Strix GL702VM 17-inch G-SYNC gaming laptop featuring a GTX 1060 graphics chip. This portable gaming machine features the Asus ROG HyperCool triple-copper thermal module and an anti-ghosting gaming keyboard.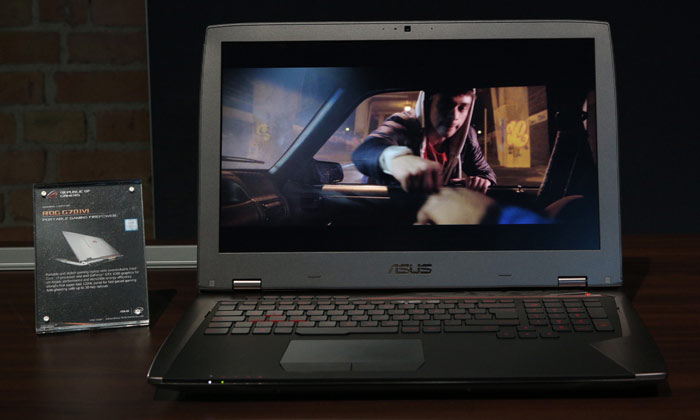 Asus ROG is highlighting just one new monitor, the 24.5-inch Full-HD ROG Swift PG258Q. It offers a 1ms response time, 240Hz refresh rate with G-SYNC, and a "super narrow bezel". The monitor stand features ROG LED lighting effects, as pictured below.