Senior VP and GM of Intel's Digital Enterprise Group, Pat Gelsinger, delivered a keynote speech on Wednesday morning look at Core 2 and its impact on the server market. He likened the last six months at Intel as one giant sprint to deliver its mass of new products to the market.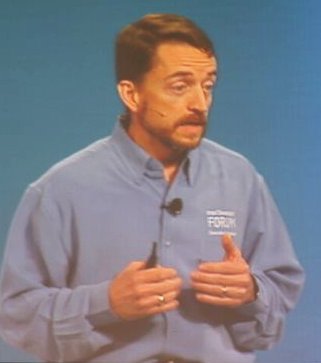 Gelsinger opened his speech by likening the last six months at Intel to sprinting a middle distance race. It's been all go for Intel, launching Core mArch based products from its server line right down to laptops. He also spoke of Moore's Law, still of the utmost significance to Intel. Gelsinger gave mention to the past few decades and how the focus has changed while still keeping to Moore's Law. In the 70s there was innovation, the 80s was scaling, the 90s was the era of manufacture and in the current decade it's all about efficiency.
Gelsinger went over the products that Intel has launched over the past few months, from the low voltage Xeon LV in March, through to the Core based Xeon 5100 'Woodcrest' and in August the Xeon 7100 series with 16MiB of cache. A waver of each product was brought out to create a wall of wafers demonstrating the achievements Intel has made in the last six months. There are now over 500 client designs based around Core 2 and 200 server designs.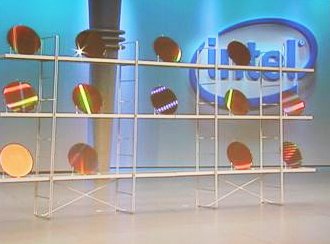 A live benchmark was then shown of two server platforms performing matrix multiplication. One server was a Core based Xeon, the other was an AMD Socket F Opteron solution. Both at idle and under load, the AMD powered server consumed more power, while the Intel server was also quicker in the benchmark.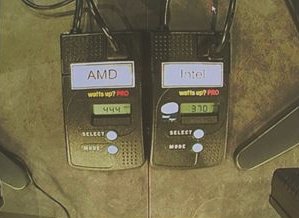 SSE4 and 'Geneseo'
50 new SSE4 instructions will be introduced when Intel rolls out 45nm parts. Intel says the new instructions will be beneficial to multimedia apps, graphics apps and games, along with web servers and application servers.
A new PCIe technology, code named 'Geneseo' was also mentioned. Co-developed with IBM, the specification would include co-located hardware on the PCIe bus, with the aim of speeding up virtualisation and maths intensive calcs. The two companies will continue to work with the PCI Special Interest Group on future PCI developments.
New vPro
Gelsinger took some time to talk about Intel's vPro platform, revealing that the next generation of vPro will extend the capabilities of the platform with respect to management and security. This will include new 'system defence' features designed to impede or even halt the spread of viruses and other attacks. LaGrande, now known as Intel Trusted Execution Technology, will also be included in the new vPro.