We have learned details of several of the new third party Steam Machines since yesterday when we heard about the 12 Valve partners lined up so far. We updated that article with the specifications of the CyberPowerPC Steam Machine 'A' and 'I' models (AMD and Intel respectively) that were emailed to us yesterday. Today we have had more Steam Machine debutante specs sent to us by Zotac and found more official details about the offerings coming from Alienware, Gigabyte and Scan.
Zotac ZBOX Steam Machine
As I speculated yesterday Zotac's Steam Machine is based upon the living room friendly ZBOX chassis. This offering will utilise an Intel Core processor and Nvidia GeForce GTX GPU, both of which are listed as specifications 'TBD'. The chassis will be a third generation ZBOX in all-black with orange lighting. Steam OS will come pre-installed and a Steam Controller bundled.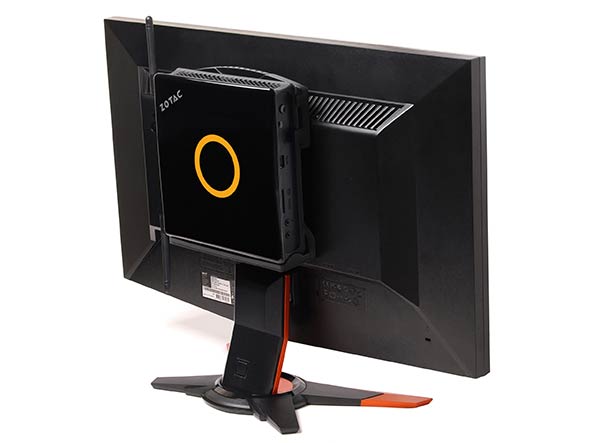 "ZOTAC is pleased to work with Valve Software to create the ZBOX Steam Machine. Valve's SteamOS is a game-changer to the PC gaming market that enables us to deliver a game console experience that's superior to the latest next-generation console," said Carsten Berger, senior director, ZOTAC International. "Gamers can expect the latest Intel Core processor and NVIDIA GeForce GTX graphics processor in the upcoming ZOTAC ZBOX Steam Machine for stunning visuals and world-class features."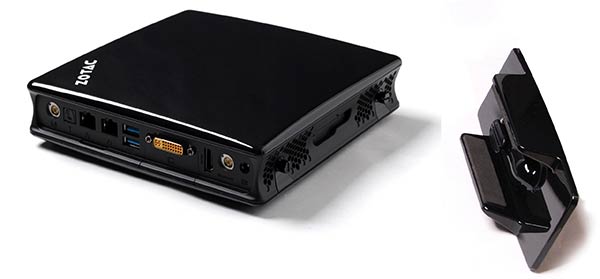 You won't be able to purchase this particular Steam Machine until H2 2014, pricing will be revealed nearer to that time.
Alienware
Alienware will be creating two Steam Machines. One of the designs, as pictured will be new and later in the year a version using the X51 chassis will be launched. Both are to be launched in "late 2014". Alienware has been pre-installing Steam on its machines for the last four years, says Dell in a press-release.
"We have been working with Alienware since we began defining our vision of the Steam Machine. Alienware's historic commitment to gaming, their design and engineering capabilities and their global reach made them an ideal partner for us on our Steam Machine project," said Gabe Newell, Founder of Valve. "The result of our collaboration is the Alienware Steam Machine, a console that encapsulates the full potential of what a Steam Machine should be."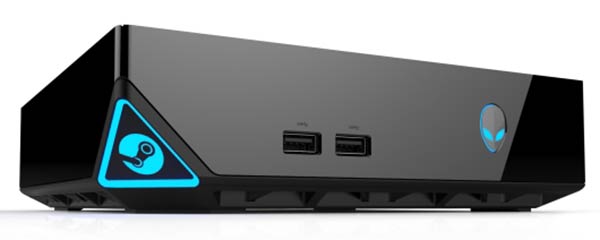 The custom made Steam Machine design is said to "deliver the benefits of PC gaming in an incredibly small footprint, providing the best balance between size, performance and aesthetics for the living room gaming experience". At the time of writing we don't have specs or prices for either of Alienware's proposed Steam Machines but late 2014 is a long way off in tech terms.
Gigabyte Brix Pro
Games magazine IGN says that a version of the 'Brix Pro' is Gigabyte's take on a Steam Machine. The Taiwanese PC hardware specialist has specified the following core components; an Intel Core i7-4770R processor, Intel Iris Pro 5200 graphics and 8GB of RAM.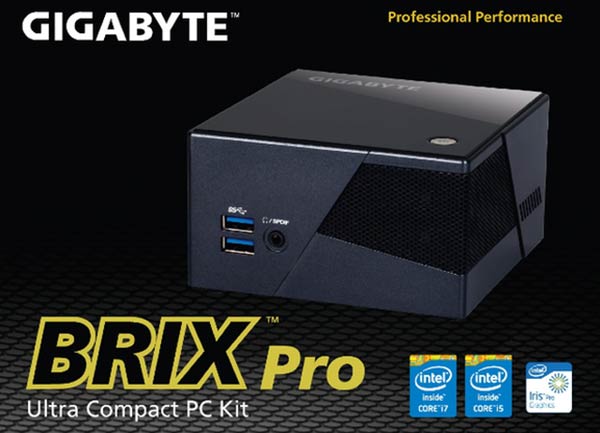 The Brix Pro supports both mSATA and standard 2.5-inch SSDs, has two RAM slots, a Mini DisplayPort, HDMI, 4x USB 3.0 (two front, two back), Gigabit Ethernet, and Bluetooth 4.0. The dimensions of the system are 62 x 114.4 x 111.4mm. Again we lack pricing and any firm release dates.
Scan NC10
Scan Computers' NC10 is a custom design developed in collaboration with Nvidia and is expected to launch "soon" as the UK's first official Steam Machine.
The slim metallic design is powered by mobile parts including the following key components; an Intel Core i3 4000M CPU, an Nvidia GeForce GTX 765M GPU, 8GB of Corsair Vengeance memory and 500GB of storage.
Initial pricing for this Steam Machine is set to be around £699 but Scan has informed us that, in keeping with existing 3XS machines, the N10 will be "fully customizable with different CPUs, RAM and storage devices using our online configurator."