During an Intel Developer Forum keynote in San Francisco today Intel and Google showed off new Chromebook (and Chromebox) hardware based on Intel's 4th generation Core microarchitecture. The new hardware came from a variety of manufacturers including two Chromebooks from existing Chrome OS hardware partners Acer and HP, joined by Toshiba's first ever Chromebook effort. ASUS also contributed to the Chrome OS plus Haswell hardware-fest with a new petite Chromebox computer.

The new lineup of Chrome OS computers will greatly benefit from the energy efficiency of Intel's Haswell microarchitecture. Google writes, on its Chrome blog, that the new range of computers, shown today, "sip less power to improve battery life by more than 2X over previous generations, while offering increased performance".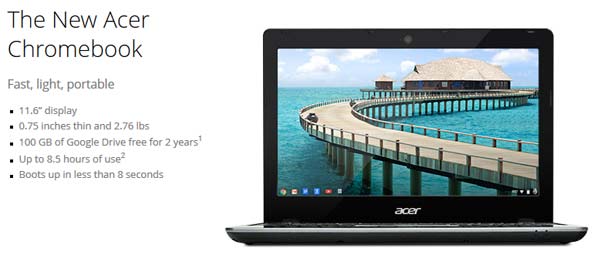 Two of the new devices, the new Acer and HP Chromebooks, are already in the Google online store, albeit just for signing up for further information and alerts about their release. The specification details for this 'Q4 range' of Chromebooks are scant; we know they will be Haswell chip powered but the only other information we get is the screen size, approximate battery life, thickness and weight. You can see these specs from the details captured in the screenshots in this article.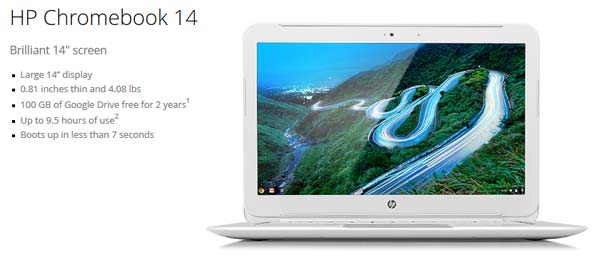 As always with any Chrome OS device release Google is very keen to talk-up how successful and widely adopted Chromebooks are becoming. The Mountain View company says that Chromebooks "have become the go-to laptop for many people". Furthermore, in its blog post about the new Chrome OS powered by Intel Haswell devices, some market research figures are quoted; "Research firm NPD says Chromebooks represent 20-25% of the $300-or-less computer segment." Also Google says that, in the US, over 5,000 schools have deployed Chromebooks for student use.
Pricing for these new devices will be key as Chromebooks seem to be filling the gap caused by the demise of the Windows netbook trend. In the sub $300 sector I'd personally want to grab something like the ASUS X102BA Ultraportable, recently shown off at IFA, or a thin and light budget notebook or 2-in-1 with one of the new Bay Trail SoCs, which I hope will emerge in the not-too-distant future.