Many of you are probably still wondering what all this Intel ViiV stuff is about. In short, it's clever marketing for systems geared towards media center usage... think of it as the Centrino of the Digital Home.
What comprises a ViiV system, then? It needs a particular chipset combination (Intel, of course) along with Intel's latest GigaLAN, their HD 5.1 audio codec and the ViiV platform driver software. Rather than sit and write about the platform, however, we'd rather give you a look at an actual ViiV ready system so you can see what sort of thing to expect. It's ECS Elitegroup providing the product in this instance, with its intriguing P60.
Is it a games console, a set-top box or a laptop? It's hard to tell, but it certainly doesn't immediately strike us as a desktop PC. Indeed it's not likely to sit on your desk and will instead sit at the heart of your media center. The design is certainly clever, although its appeal will be more subjective.
You wouldn't be far wrong mistaking the P60 for a laptop, however. It does in fact share many features of a laptop. These include the use of 2.5" hard drives, SO-DIMM DDR2 slots and Intel's Core Duo 'Yonah' processors. Sat on an i945GT northbridge with ICH7-M southbridge it's set to deliver performance at a power consumption much lower than your regular desktop. Intel's 945GM internal graphics combined with the CPU and mini PCI TV tuner should provide HDTV at up to 1080p. Connectivity includes USB 2.0, Firewire, card reader and networking both wired and wireless (Intel's latest ViiV ready tech, of course.)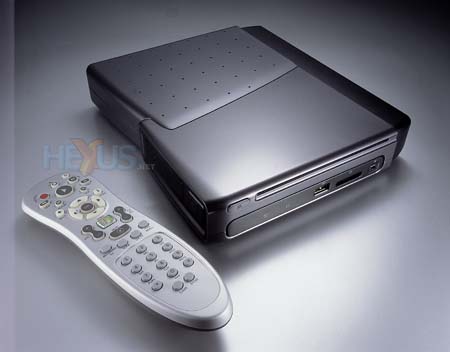 Included is a Microsoft MCE card and remote, which when sat next to the P60 demonstrates its size. It stands to reason to find this shipping with Windows MCE, then.
Elitegroup Computer Systems, Inc is seeing this as their chance to get a foothold in the digital home market. Most people haven't even begun to adopt digital home hardware, but lifestyle computing is growing in popularity, so it's only a matter of time before the likes of the iPod crowd buy into this kind of thing. ECS Elitegroup have their eyes on the US, hoping to win over customers with the product's looks, performance and connectivity for both networking and storage devices.
We expect we're going to see a number of new designs for digital home PCs put forward from various companies over the course of this year, in fact we've already seen quite a few over recent months, including at CES, and ECS Elitegroup has spoken about an upcoming rework of the P60 which will include a screen for digital photo-frame style usage. We eagerly await the ever increasing number of designs that surface over the course of this year.