Earlier this year, at the Microsoft Windows 8 unveiling, the firm briefly showcased a minute little box, which it claimed contained an AMD Fusion chip, running Windows 8. We've been waiting eagerly ever since to see some of these micro products on the show floor and at last one appears to have cropped up, the AMD LiveBox.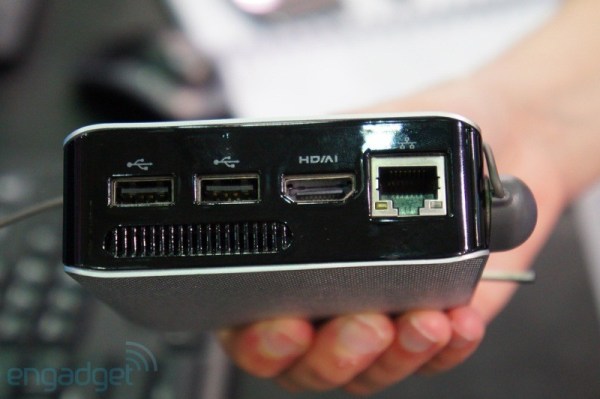 The tiny little block can be held comfortably in the palm of your hand and features an AMD Fusion C-60 processor clocked at 1.0GHz with a TurboBoost of 1.33GHz and with on-die Radeon HD 6290 graphics. Throw in a 64GB Samsung SSD, 1GB RAM, two USB 2.0 ports, HDMI, Gigabit Ethernet, a memory card reader, Bluetooth 4.0 and even quad-band 3G and you've got one heck of a product for its size.
The connectivity isn't even the most interesting aspect of the LiveBox, with the product featuring, admittedly at Computex a US style, plug socket, built directly into the unit, showing that the box's power supply is fully integrated, with the product insert-able directly into a plug socket.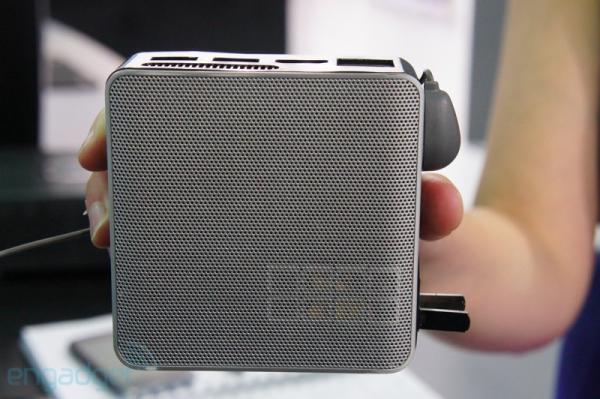 The demo at Computex was running Windows 7, however given the reported memory savings and performance improvements of Windows 8, we can't help but assume this little Box will launch with Microsoft's latest and greatest OS. AMD is yet to confirm pricing or availability and, whilst with hardware such as a 64GB SSD the price can only go so low, this is certainly a product we'll be keeping our eyes open for.
Credit to Engadget for the early snaps.