Designed for the gaming crowd, Alienware has announced its latest stylish chassis, the X51, a console-sized desktop with customisable lighting zones.

The X51 uses a Mini-ITX motherboard with an Intel Core i3 base processor, but it can be configured up to Core i7 with 8GB RAM, NVIDIA's GeForce GTX 555, 1TB HDD and an optional Blu-ray drive.

With a chassis similar in size to the original Xbox, it sports a matte black finish with three customisable lighting zones and can even be placed horizontally or vertically as if it were a console.

Measuring 13.5in high, 12.5in deep and 3.7in wide, it's been labelled as the smallest gaming desktop ever produced, but still looks to provide everything you need for the complete gaming experience with USB 3.0, Wireless-N technology and HDMI 1.4.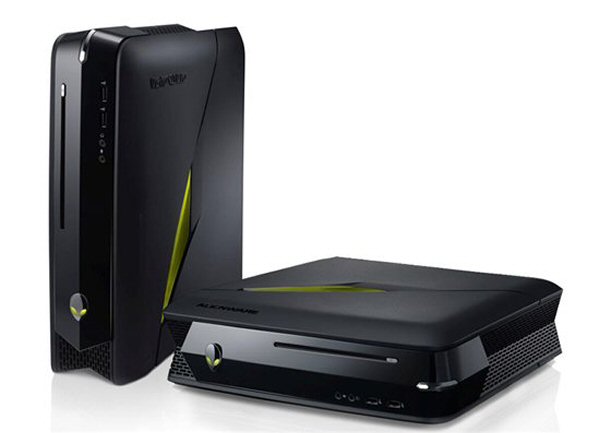 Alienware X51 Product Specifications:



• Intel Core i3 Dual Core (standard) and Intel Core i5 and i7 Quad Core Processor Options
• Intel H61 Express Chipset Architecture
• Mini-ITX Motherboard
• Powerful NVIDIA Graphics Card Options
o 1GB GDDR5 NVIDIA GeForce GT 545 (Standard)
o 1GB GDDR5 NVIDIA GeForce GTX 555
• Configure with up to 8GB of DDR3 Memory (4GB Standard); 2x 240-Pin DDR3 SDRAM Slots
• Fast 7,200RPM 1TB Hard Drive
• Microsoft Windows 7 Home Premium
• Slot-Loading Dual Layer DVD Burner (Standard) or optional Blu-ray Disc Reader
• Internal High-Definition 7.1 Performance Audio with Waves MAXX Audio Software
• Integrated 10/100/1000Mbps Gigabit Ethernet NIC and Integrated 802.11 a/b/g/n Wi-Fi Wireless LAN (standard)
• USB 2.0 (6x); USB 3.0 (2x); Microphone In; Headphone/Speaker Out; HDMI 1.4 Output; RJ-45 Gigabit Ethernet; Front, Rear and Center Speaker Ports; SPDIF Digital Output (TOSLINK); SPDIF Digital Output (Coax)
• Alienware 240 Watt Power Supply (Standard) or optional 330 Watt Power Supply
• Dual-orientation tower system dimensions: h: 13.5" (343mm) x w: 3.74" (95mm) x d: 12.52" (318mm)
• Starting Weight: 12.1 lbs. (5.49 Kg.)

Prices for the X51 start at $699, though the unit is currently only be available in the US from http://www.dell.com/ or http://www.alienware.com/