Another year's CeBIT is almost upon us, and it looks as though MSI's focus for the 2010 event is going to be all-in-one PCs.
When the show kicks off this coming Tuesday, MSI will unveil a wave of new systems - including what it calls the world's first all-in-one to feature a 3D touchscreen display, the Wind Top AE2400.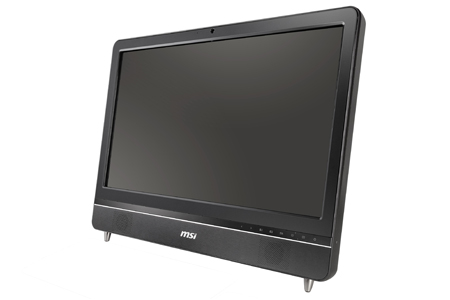 MSI's latest, pictured above, crams a whole lot of tech into its sleek, clutter-free shell. Users can look forward to an Intel Core i3/i5/i7 processor and ATI Radeon HD 5000-series graphics, a combination that should come together nicely to make the most of the 24in full-HD LED display - which courtesy of a 120Hz refresh rate and bundled 3D shutter glasses is equipped to take you into the third dimension.
We remain sceptical about 3D technology in the home, but MSI seems convinced, stating that its 3D all-in-one PCs will provide a "video experience that you would normally only get in the movie theatre".
"Put on the 3D glasses and touch the screen with your fingertip, and the beautiful scenery of the planet Pandora from the movie Avatar will appear right in front of you, almost as if you could reach out and touch it," said the company in a statement.
Readers who aren't quite convinced can also look forward to a bevy of standard, non-3D all-in-one PCs, too. MSI will showcase two new models - the 22in AE2280 and 24in AE2420 - equipped with Intel's Core i3/i5/i7 processors, as well as two "environmentally-friendly" models for commercial use in the form of the 19in Wind Top AP1920 and AE1920. The latter duo will consist of coating materials that are free of harmful substances and will ship in 80 per cent recyclable packaging.
If all that isn't enough, MSI will also have all-in-one PCs in the 18.5in, 19.5in, 21.5in and 23.5in form factors, all featuring new designs available in "a whole range of colours".
Looks like MSI will soon become the one-stop-shop for all-in-one systems. It's so confident, it claims "these new models are set to make traditional desktop PCs a thing of the past". Stay tuned as we'll be going hands on when Team HEXUS lands at CeBIT next week.