Acer set to embark on the Pine Trail
In the run up to the Consumer Electronics Show 2010, Acer has given laptop aficionados a whiff of fresh pine - Pine Trail, that is, with leaked screenshots from the firm's driver database showing off the new Acer Aspire One 532h netbook, complete with Intel's graphics-friendly Atom N450 CPU based on the Pine View core.
Acer will be one the first firms to release a netbook based on the brand-spanking-new Pine Trail platform and the specs certainly look appealing.
Aside from the netbook-sized 10.1-inch LCD display with 1,280 x 720 resolution and the aforementioned Atom N450 processor coupled with GMA 3150 graphics, the little lappie also sports 1GB of RAM, a three-cell battery, a 0.3-megapixel web camera, three USB 2.0 ports, Wi-Fi, VGA-out, audio jacks and a choice of either a 160GB or 250GB hard drive.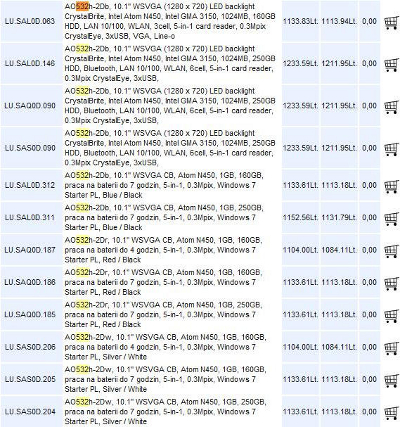 Early reports reckon the machine - which comes in a variety of colours including blue, silver, red, and black - will also run Windows 7 Starter edition and may include a 5-in-1 card reader.
At an estimated price point of 299 euros ($440), that's a powerful little package that won't tax the purse strings too much.

Of course, Acer hasn't officially said anything about its new model, probably due to the fact Intel's keeping the netbook manufacturers on a tight leash in terms of releasing product information before the official embargo lifts.