A new range of computers designed exclusively for the 60-plus age group has been launched today as a joint effort between discount-age and Wessex Computers.
Dubbed SimplicITy, the systems claim to be "computers made easy" and hope to equip the elderly population with basic PC functionality - including the ability to send/receive emails, create documents, browse the web and chat online.
Spearheaded by British television presenter Valerie Singleton, best known for her role as presenter of the BBC's Blue Peter series, SimplicITy computers ship with a Linux Mint-based operating system and an Eldy-based email client. At boot, the system utilises a "Square One" home screen designed to provide one-click access to the computer's six key features.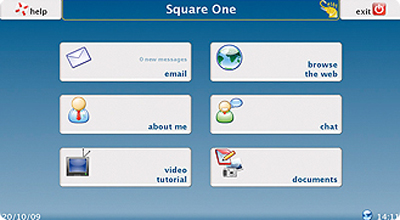 There are currently two computer models available; the simplicity Suite 100 and simplicity Suite 200, priced including delivery at a relatively-expensive £445.99 and £535.99, respectively.
Both systems feature onboard graphics and sound, an integrated network connection, a 19in TFT monitor, stereo speakers and a wireless keyboard and mouse. Helping differentiate the models, the simplicity Suite 100 features a 2.2GHz AMD Sempron LE-1250 processor, whilst the simplicity Suite 200 sports a dual-core 1.6GHz Intel Atom 330.
Each SimplicITy computer ships with a series of video tutorials starring Ms Singleton, the first of which can be viewed below. The SimplicITy website also reveals that everyone who buys a SimplicITy computer system will receive one year's free membership of discount-age.co.uk, a website setup by Ms Singleton to help find the best deals for 60-pluses.
What do you think, readers? Good idea or patronising toward our older citizens? Share your thoughts in the HEXUS.community forums.