We've been curiously intrigued with the ASUS Eee keyboard when we first saw it in January's CES show. Seen again at CeBIT and May's COMPUTEX trade show, it's an all-in-one PC that's housed inside a good-looking keyboard.





The guts of the system comprise of an Intel Atom N280 chip; 945GSE chipset; 1GB memory; a choice of either 16GB or 32GB SSD; Wireless-N, Bluetooth, and HDMI. The novel feature, we suppose, is the 5in, 800x400px touchscreen on the right.

But how has ASUS managed to cram all that into a keyboard that's 19mm-thick?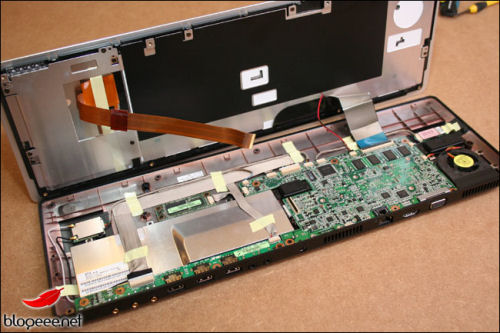 The folks over at Blogeeenet have managed to get their grubby mitts on a prototype and have broken it down some.

Bad news is that the 1GB RAM (DDR2-800) is soldered on the board with no option of increasing the capacity. A 40mm 24dB fan, to the right, keeps the Eee Keyboard cool with the added benefit of being near-silent in operation.

We lamented the potential battery life of the keyboard, guessing that it would last around 90 minutes in everyday usage. A close look at this Eee shows that the slimline battery can hold a meagre 13.9WHr, intimating that our guesstimate was correct. Compare this with the 48WHr battery shipping with the Seashell netbook, for example.

1080p HDMI is provided by a Silicon Image chip, as the integrated GMA950 graphics miss this feature, but the Keyboard may struggle playing high-definition content of any kind; there's no helping hand from the GPU.

We'll be looking at one in due course, but think of it as a cheap-and-cheerful netbook that masquerades as a 952g keyboard.