We were expecting little other than uniquely-designed graphics cards at Sparkle's booth this year, but we've been surprised by an interesting and uniquely-designed HTPC.
It's called the CUTI n30, and although described by Sparkle as a tiny PC or nettop, we're calling it a HTPC as it appears to have many of the right ingredients.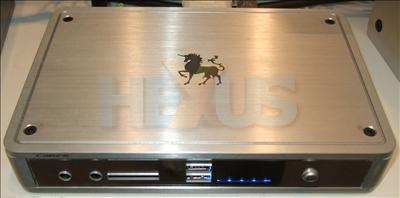 The first ingredient - the PC itself - is tiny in size and is based on NVIDIA's ION platform - that's a combination of an Intel Atom processor (a dual-core Atom N330 in this case) and a GeForce 9400M IGP. Sparkle's pairing that combo with up to 4GB of DDR2 memory and up to 500GB of 2.5in storage. There's also a multi-card reader, two USB ports and audio ports adorning the unit's front face.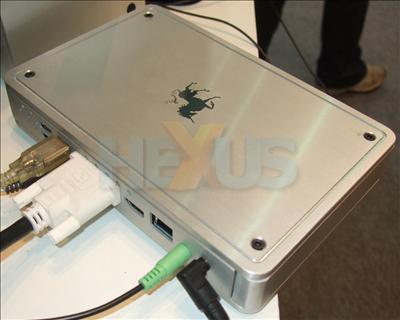 We had to disassemble Sparkle's display to get a look around the book, but once we got there we found HDMI and DVI outputs, along with 7.1 HD audio via SPDIF, Gigabit Ethernet and an additional four USB ports.
So far so good, but it gets better. In addition to the PC, Sparkle's hoping to launch other stackable components to create the complete setup. Right now, it's looking like a three-piece solution: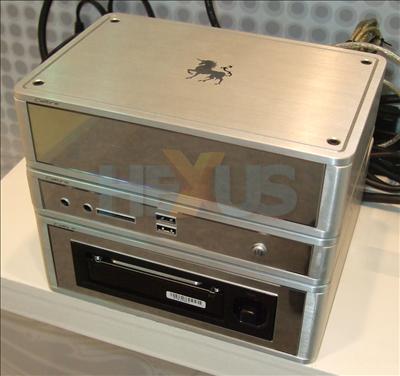 The top-most box contains a TV tuner that connects to the PC via a single USB cable. At the bottom, there's another box that provides hot-swappable access to a 3.5in disk. It's again connected via USB and provides a useful means of expanding storage - an essential component of any HTPC.
The CUTI N30's a little different, and we like what we've seen so far - including an in-house designed software suite aimed at HTPC use - but there's no word on pricing or availability yet.