All-in-one touchscreen PCs are all the rage at this year's COMPUTEX, and MSI has a wide selection as part of its Wind Top range.
One in particular - the Wind Top AE2201 - is being touted by MSI as "the affordable TV substitution in the living room", and it's a useful-looking system.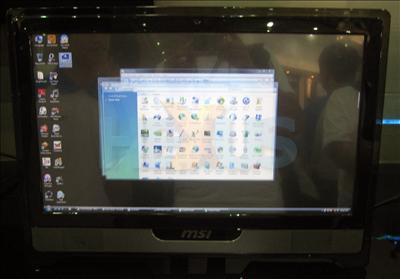 The Wind Top AE2201, pictured fuzzily above (sorry!), features Intel's dual-core 1.6GHz Atom 330 processor, and combines it with NVIDIA's ION chipset - complete with GeForce 9-series graphics.
MSI's touchscreen measures 21.6in and provides a 1,920x1,080 full-HD resolution - making it big, clear and easy to use at the touch of a finger. There's a slot-loading DVD multi drive, HDMI input, Gigabit Ethernet, Wi-Fi connectivity and a built-in webcam.
The system's ION foundations should make light work of high-def playback, and the dual-core Atom should fare well enough elsewhere. Given its modest innards, we're hoping for a reasonable price tag - and that could make the Wind Top AE2201 very tempting for use in say the bedroom or kitchen.