There's all sorts of tech on show at this year's COMPUTEX, but two items are clearly prevalent - Microsoft's Windows 7 operating system and touchscreen all-in-one PCs.
If 2008 was the year of the netbook, 2009, it seems, is shaping up to be the year of the touch-enabled nettop. Although Taiwan's annual trade show doesn't officially kick off until tomorrow, we've been browsing what's on display and there's a huge number of touchscreen all-in-ones from many of the industry's big names.
What's somewhat surprising, though, is that the vast majority are being demoed using Microsoft's Windows 7 Release Candidate. That tells us something about the stability of Microsoft's yet-to-be-finalised operating system, as well as Vista's inadequacies on low-end hardware.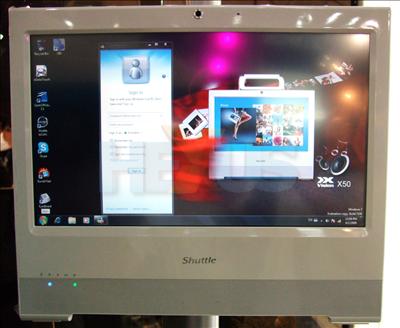 Take for example Shuttle's X50 all-in-one. The system, pictured above, is a winner of Taiwan's 2009 National Award of Excellence and despite featuring modest innards, makes Windows 7 feel as smooth as silk.
Shuttle has a display wall of X50 systems - each equipped with a dual-core Intel Atom 330 processor and 1GB of RAM - allowing users to get a feel for Windows 7's touch interaction. Shuttle's system is, sadly, only capable of single touch input but it's surprisingly adept when used with Microsoft's upcoming OS.
Using only Intel's GMA 950 IGP, the touch animations are smooth and the entire system felt very responsive. We had fun playing with it, and judging by the number of touch-enabled systems on show, it seems the industry is banking on a Windows 7 boom that may or may not come. Either way, prepare for an onslaught of touchscreen all-in-one PCs for every room in the house.
Oh, and has anyone seen Windows XP lying around? It seems to have been lost and forgotten out here in Taipei.