Probably the most interesting product from ASUS at CES 2009 was its Eee keyboard, which is currently in the prototype stage.

Looking like just a regular, if suped-up, keyboard on first glance, it's actually an entire PC in a box.

Take a look at the right-hand side and you'll see a 5in display that's touch-sensitive. It can be used for basic browsing, we reckon.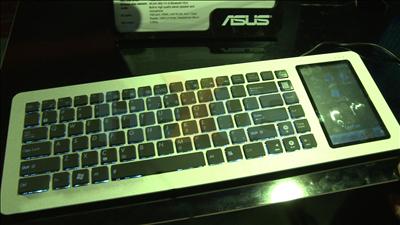 What's cool here is that the Atom-powered keyboard-PC includes both 802.11b/g/n WiFi and ultra-wideband HDMI, for wirelessly transferring/streaming data to external displays such as a monitor or big-screen TV.

The under-the-keys 1.6GHz Intel Atom processor is augmented with 1GB DDR2 and either 16GB or 32GB of flash storage.

Otherwise, think of the sub-1kg prototype as a fully-functional netbook that masquerades as a keyboard.

No word on pricing or availability, but it's something that's genuinely different from the norm.

Click here for all CES 2009 content

.