CES '09 is just days away, and MSI will be on hand with a slew of new products - including a super-slim X-series laptop, new-and-improved Wind netbooks and a benchmark-beating G-series notebook.
Away from the portable goodies, though, are a pair of supposedly low-cost desktop systems that could prove useful.
The first is MSI's WindBox, an ultra-small computer system that's designed specifically to attach to the rear of any VESA-compliant display. WindBox, pictured below, measures 180 x 255 x 19mm and features the usual 1.6GHz Intel Atom N270 processor, combined with Intel's 945GSE + ICH7M chipset.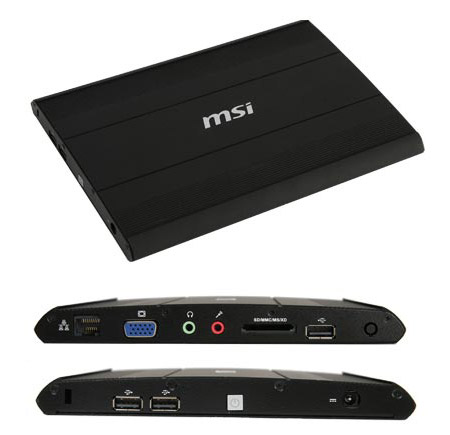 Graphics are powered by Intel's on-board GMA 950 and there's 1GB of DDR2 memory. Ideal for bringing basic tasks such as web browsing to the TV, but it's likely to struggle when pushed and 1080p video might be asking too much. Could be useful if the price is right, though, and it creates a reasonable alternative to ASUS' Eee Box.
Following on from the WindBox is another product that follows in ASUS' footsteps, the all-in-one MSI Wind NetOn.
The Wind NetOn, pictured below, will arrive as an alternative to ASUS' Eee Top and boasts a touch of special sauce by claiming to be the world's first all-in-one to feature Intel's dual-core Atom processor, the 1.6GHz Atom 330.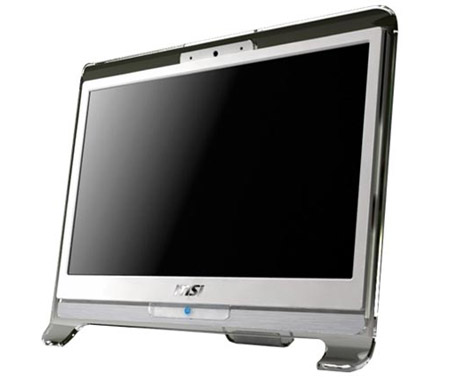 The awkward-sounding NetOn will be available in 19in and 22in models and though there's no mention yet of touch-screen functionality, MSI claims the range-topping AE2203 is "fully equipped with advanced AV and entertainment functions and supports Full HD".
Stay tuned for further details as Team HEXUS has landed in Vegas and will soon be dishing out hands on impressions live from CES '09.
Official press release: MSI Debut the new U-Series and all in one NetOn at CES 2009