Gigabyte continues to push forward with the design of new and specially purposed servers based around AMD's latest Epyc Rome processors. It launched an initial salvo of servers coinciding with the AMD Epyc 2 processor launch, last month. Later in August we found out that Gigabyte's new AMD Epyc 7002 systems had broken 11 performance world records.
A few hours ago Gigabyte wrote to HEXUS to inform us that it has launched a further six AMD Epyc Rome server systems. It says that it will be selling 28 different Epyc Rome servers (including rack mount servers, GPU servers and high density multi-node servers) before 2019 is out. All the new models have been created especially for the 2nd Generation AMD Epyc 7002 Series processor. "These systems provide unique configurations and features to give our customers solutions to support their diverse and compute intensive workloads in the data centre or at the edge," says Gigabyte.

R162-Z10 / Z11: 1U 3 x Nvidia T4 Server
These 1U chassis single socket servers support up to 10x 2.5-inch hot swap flash drives. Furthermore, users can fit up to 3x low profile Nvidia T4 GPU cards in the rear - said to make these systems ideal for diverse CPU / GPU computing workloads in VDI, inferencing or deep learning.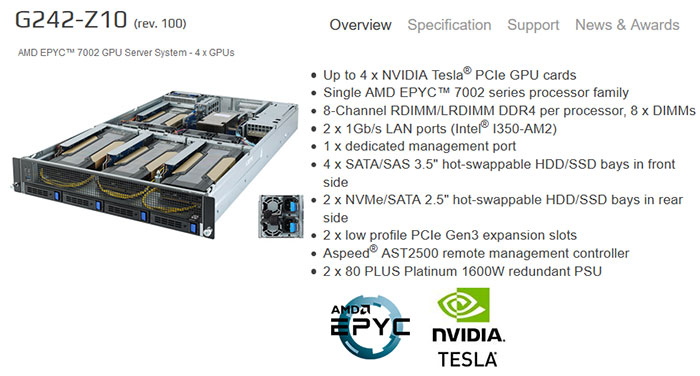 G242-Z10: 2U 4 x GPU System
The G242-Z10 is a 2U system designed for GPU computing workloads. It can fit up to four PCIe Gen 3.0 x16 expansion slot bays for GPUs (with each GPU connected directly to the processor via PCIe root). Each GPU bay is said to offer ample room and great airflow so it is compatible with a diverse range of active and passive cooled GPUs. For storage you can fir up to 4x 3.5-inch hot swap SATA / SAS drives in the front, 2x 2.5-inch hot-swap flash drives in the rear, and there are 2x onboard M.2 slots.

H252-Z10: 2U Single Socket Multi-Node Server
This server provides a single-socket alternative to the popular H262 Series dual socket 2U 4 node servers from Gigabyte. Aimed at enterprise workloads, the H252-Z10 features 4x hot-plug single socket node trays accessed from the rear, and 24x 2.5-inch hot plug NVMe drive bays at the front (with six assigned to each node). Each single socket node also features three PCIe Gen 4.0 & Gen 3.0 expansion slots.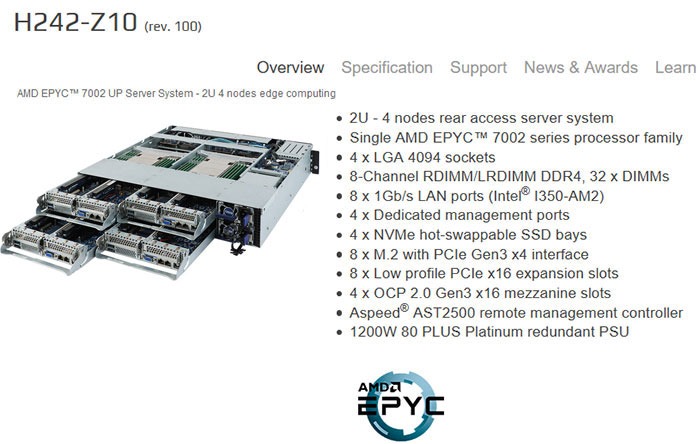 H242-Z10 / Z11: World's First Multi-Node AMD Epyc Edge Server
As per the sub-headline, this is claimed to be the world's first AMD Epyc multi-node system designed for edge computing. Gigabyte puts these systems forward for "delivering better computing power at the edge of the network to reduce latency and response times".
Each dense compute capability packed 2U chassis features four half depth, hot pluggable node trays, featuring a single socket AMD Epyc processor as well as ample memory, expansion and high speed flash storage capacity. The H242-Z10 / Z11 designs differ by providing rear and front access sliding node trays, respectively.
Gigabyte hopes to disrupt the server market with the above six new single-socket AMD Epyc Rome systems. If you want to learn more head on over to the individual server links, above.