Dell EMC has announced a quintet of new PowerEdge servers which are built around AMD's latest and greatest 2nd Gen AMD Epyc processors. As well as providing "exceptional performance, management and security," the new servers have already set record for virtualized database performance and SAP SD benchmarks. This is an important design win for AMD as the five all-new designed from the ground-up, PowerEdge servers have been added to the world's bestselling server portfolio.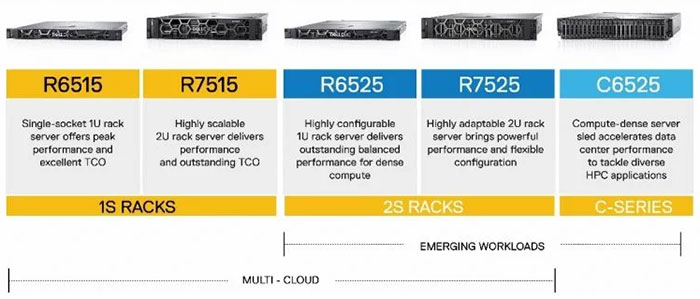 Multi-cloud world
"The modern data centre must embrace traditional and multi-cloud approaches, helping organizations become more agile, deliver new insights from data, and ultimately achieve results faster," said Ashley Gorakhpurwalla, President and GM, Server and Infrastructure Systems, at Dell Technologies. Gorakhpurwalla adds that the all-new Dell EMC PowerEdge designs coax the best from AMD's 2nd Gen Epyc processors to address those needs.
The press release about the new servers contains an array of impressive stats gained from early testing of the all-new Dell EMC PowerEdge servers. For example, the servers have set world records including 280 per cent greater single-socket virtualized database performance and the industry's top dual-socket performance result in the SAP Sales and Distribution (SAP SD) benchmark.
Another highlight is the greater bandwidth on offer - with up to 26 per cent more PCIe lanes with 60 per cent faster interconnect fabric, enabled by PCIe 4.0, the new servers "offer industry-leading capabilities for demanding network needs," says Dell. The latest innovations and capabilities delivered by Dell EMC with these new servers include; workload optimised system designs, efficient TCO, and security.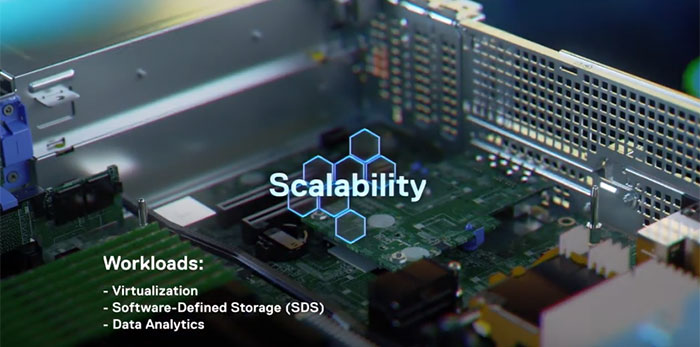 Alongside the release of the new servers Dell sought to highlight its new OpenManage advancements. Dell EMC OpenManage offers; increased management scalability for VMware vCenter, enhanced management to Microsoft environments, and ServiceNow integration. The Dell EMC Ready Solutions for HPC portfolio has been expanded too.
Many of the newly announced systems and software solutions are available now.
Dell EMC PowerEdge R6515 and R7515 servers are available worldwide now.
Dell EMC PowerEdge R6525 and C6525 servers have planned availability worldwide in October 2019.
Dell EMC PowerEdge R7525 servers have planned availability in early 2020.
Dell EMC OpenManage advancements are now available worldwide.
Dell EMC Ready Solutions for HPC Digital Manufacturing, Research and Life Science, with 2nd Gen AMD EPYC-based PowerEdge servers, will be available worldwide in October 2019.
For more information about how these new servers will be used it is worth a visit to the Direct2DellEMC blog.