HP today launched several new Pavilion Gaming PC products, aiming to bring "Powerful PC Gaming Experiences to the Masses". This range sits snugly beneath HP's premium enthusiast 'Omen' gaming line. In total there were two desktops, one laptop, and one desktop monitor added to the Pavilion Gaming range today. Of course HP hopes these new products will appeal to a sweet spot of users in what is the fastest growing PC segment.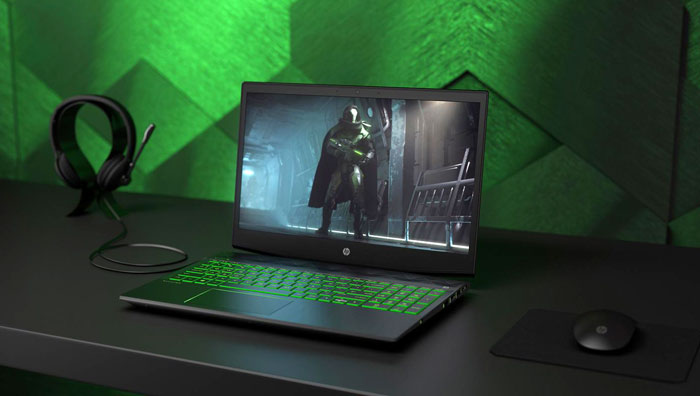 "By listening to gamers and understanding their needs, HP is building an industry-leading gaming ecosystem that appeals to all segments of the market," said Kevin Frost, VP and GM of consumer personal systems, HP Inc. "With HP Pavilion Gaming, casual gamers get the best of both worlds – powerful game play on a boldly designed device that's versatile enough to meet their everyday PC needs."
HP Pavilion Gaming Desktops 690 and 790
HP has launched two new Pavilion Gaming Desktops with a Shadow Black brushed finish with a green LED strip down the front bezel's centre and matching Acid Green printed accents on the port labels. Common to both systems are the CPU options; with up to a hexa-core 8th Gen Intel Core i7+ processor, or up to 2nd Generation AMD Ryzen processor configurable.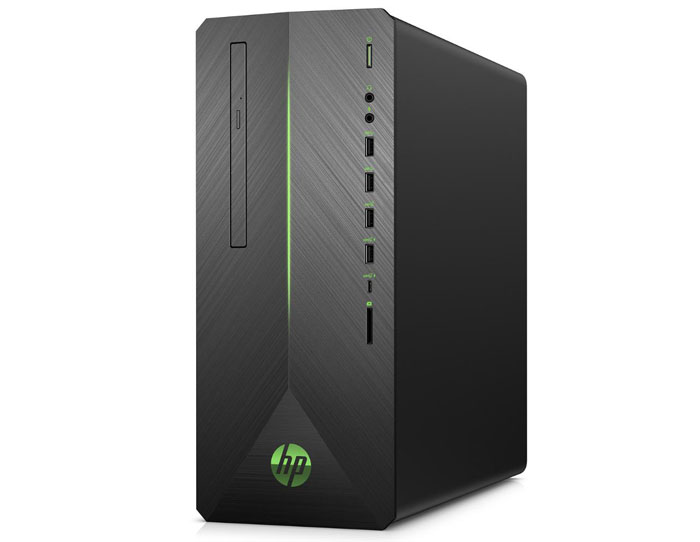 There are multiple storage options ranging from HDD-only up to 3 TB, up to 512 GB PCIe NVMe SSD-only, or dual storage up to 512GB with 3TB, or HDD up to 3 TB with Intel Optane memory acceleration. Optical drives can be configured too. Plenty of ports are available such as front mounted USB Type A, USB Type-C, audio, and a card reader, while a combination of USB Type A, audio, and video outs are available at the rear. Both desktops deliver 5.1 surround sound support for speaker setups.
Things differ mainly in memory and GPU options. The smaller HP Pavilion Gaming Desktop 690 supports up to 16GB of DDR4 RAM but its bigger brother, the HP Pavilion Gaming Desktop 790, can fit up to 64 GB of DDR4 RAM (it has four DIMM slots rather than just 2). In terms of pre-configured GPUs the 690 can be kitted out with GPUs up to Nvidia GeForce GTX 1060 or AMD Radeon RX 580, but the 790 can be specced up to an Nvidia GeForce GTX 1080 or AMD Radeon RX 580 GPU. Lastly the HP Pavilion Gaming Desktop 790 can be upgraded with full-length graphics cards and up to four storage devices thanks to its greater internal capacity.
The HP Pavilion Gaming 690 starting price is $549 and it is planned to be available via HP.com and other retailers on April 15, 2018. HP's Pavilion Gaming 790 starting price is $649 and it is planned to be available via HP.com on April 30, 2018 and other retailers on June 3, 2018.
HP Pavilion Gaming Laptop 15
Again, no surprise, Intel's 8th Gen Core processors are at the heart of these machines. HP allows for quite a wide choice here with up to high performance hexa-core mobile 8th Gen Intel Core i7+ H-series processors or up to mainstream, quad core mobile 8th Gen Intel Core i7 U-series processors. Graphics options are up to AMD Radeon RX 560X or Nvidia GeForce GTX 1060 with MAX-Q design. Storage options are flexible too, you can choose from HDD or NVMe only or dual-storage options including Intel Optane memory.
Turning to display panel choices there is again a generous choice; the 15.6-inch screen can be a 144Hz 1080p, 60Hz 1080p, or 60Hz 4K panel, it is up to you and your budget. The visuals are backed up with quality mobile audio thanks to B&O Play with HP Audio Boost technology supporting the dual speakers above the keyboard deck.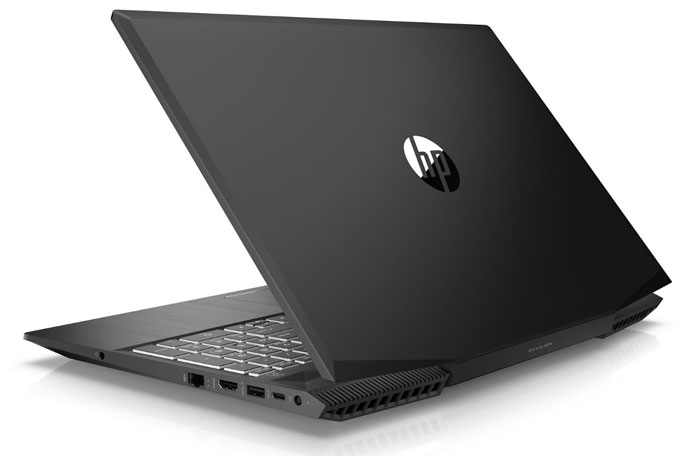 All configurations boast fast Wi-Fi with a 2x2 antenna and an option supporting Gigabit speeds. Intel H-Series machines get a brushed aluminium keyboard deck in Shadow Black with a backlit keyboard available in Acid Green, Ghost White, or Ultraviolet colour themes. Intel Core i U-Series machines come in Shadow Black finish with Ghost White accents, a plastic keyboard deck, and optional backlit keyboard.
The HP Pavilion Gaming Laptop starting price is $799 and is planned to be available via HP.com and other retailers on May 27, 2018.
HP Pavilion Gaming 32 HDR Display
Here is a new gaming display from HP which is VESA Certified to the HDR 600 standard, It is based upon a 32-inch diagonal display with Quad HD (2560x1440) resolution. Gamers may appreciate the FreeSync technology but the max refesh is just 75Hz and the response time is 5ms. Further features include; two USB Type A ports and an audio output jack along with two HDMI ports to attach gaming consoles.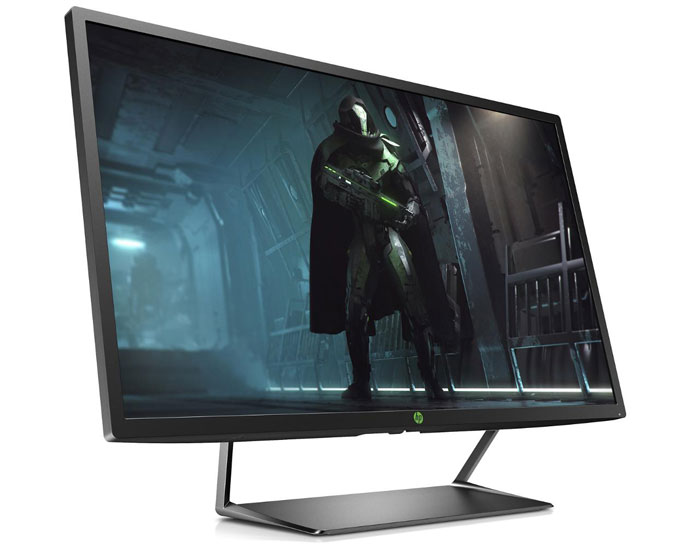 The HP Pavilion Gaming 32 HDR Display starting price is $449 and it is planned to be available via HP.com and other retailers on May 11, 2018.
Not gaming specific releases
HP hasn't only launched the above Pavilion Gaming machines. There are new 'non-gamer' 14- and 15-inch HP Pavilion x360 convertibles, 14- and 15-inch HP Pavilion Notebooks, and a refreshed HP Pavilion Desktop - all with new processors, features, and designs. Some of these portables will also be suitable for light gaming with various modern IGP and discrete GPU options. The desktop even offers choice of discrete graphic options up to Nvidia GTX 1060 or AMD Radeon RX 580 cards. You can read more about these new general purpose HP Pavilion machines here.