Your first thought is wrong. It's not a way to quickly expose one's self in public. Oh no. It is, in fact, much more decent than that.
Turbo Flash is a product from memory manufacturer Corsair that is designed to be used by Window's Vista's ReadyBoost technology. But we've not really answered the question, just thrown in another name... so what's ReadyBoost? The idea is that Vista stores data on a USB flash drive that it regularly needs, but isn't the best use of RAM. It is, hopefully, quicker to retreive it from a flash drive than regular hard disk.
So, Turbo Flash is designed to be nice and nippy in particular scenarios, allowing Vista to use it as fast-access data store. Here's more info from Corsair:
Using dual channel controllers and SLC memory, these USB drives offer fast read/write speeds and have been tuned specifically for random read of 4KB files across the entire device. This is a requirement for a device to be ReadyBoost capable... and not something the average USB Flash Drive can achieve…
Indeed, some USB flash drives are slower than hard drives, so there'd be little point using them as ReadyBoost targets. While we reckon enthusiasts would rather just add more RAM, there's bound to be a market for those looking for an easy, hassle free performance upgrade.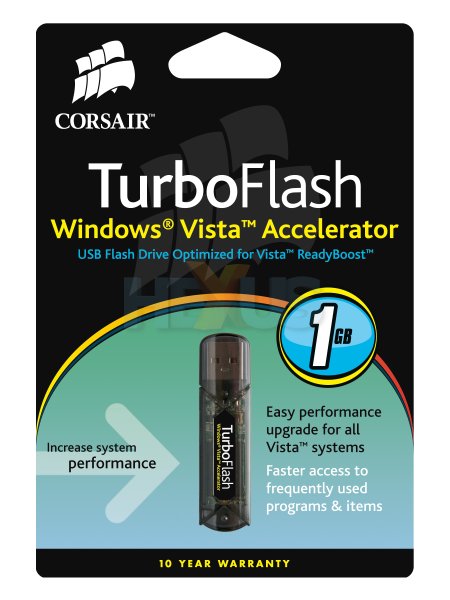 We'd give you a link to Corsair's product page, but there doesn't seem to be one yet, such is HEXUS's nose for new products. More info will appear in a matter of days, we're told.