Crucial has a couple of product announcements for us today. The first new product launch is the MX100 SSD range. These are said to be "cost effective mainstream performance" devices built using Micron's new 16 nanometer (nm) 128Gb NAND. Addressing an entirely different market segment Crucial also announced its new Crucial Ballistix Elite DDR4 memory modules "which deliver the next generation of memory to high performance gaming". These memory modules offer nearly twice the bandwidth of mainstream DDR3 memory.
Crucial MX100 Solid State Drives
Crucial claims that with these new drives "The choice between speed and capacity is over. Choose both." Also the low cost per GB is highlighted in the PR blurb, so thankfully Crucial has actually given us the MSRPs of this new range in the press release. The 2.5-inch 7mm form factor MX100 in 128GB, 256GB, and 512GB capacities have respective MSRPs of £56.99, £78.99, and £159.99.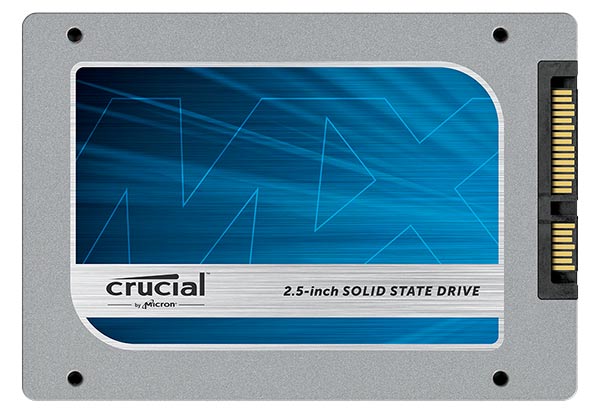 The two larger capacity drives are said to utilise Micron's new 16 nanometer 128Gb NAND, in addition to a SATA 6Gb/s controller and custom firmware, to deliver up to 90,000 input/output operations per second (IOPS). The firm also quotes a true 550/500 MB/s sequential read/write speed for both compressible and incompressible data. Also, in comparison to a traditional HDD, Micron says one of these new MX100 SSDs could prove to be 89 per cent more power efficient.
Despite its budget pricing the Crucial MX100 range still includes the following advanced features; best-in-class hardware encryption, Native Write Acceleration, Redundant Array of Independent NAND (RAIN), Exclusive Data Defense, Adaptive Thermal Protection, and Power Loss Protection.
Buyers receive a copy of Acronis True Image HD data migration software and a 3 year warranty. Crucial says the drives are available immediately through the usual channels, including crucial.com.
Crucial Ballistix Elite DDR4 Memory
Crucial has announced these new memory modules aimed at "gamers and enthusiasts". We are told that the Crucial Ballistix Elite DDR4 memory modules deliver introductory speeds which start at 2666 MT/s and 3000 MT/s. These figures are expected to improve as the technology matures. Compared with DDR3 memory these modules offer nearly twice the bandwidth, at up to 24GB/s. The effect should be a significant improvement in frame rates and system responsiveness. One further benefit of the new Crucial Ballistix Elite DDR4 memory modules is that they are also said to be up to 40 per cent more power efficient than DDR3 alternatives.

"Gamers and enthusiasts push their systems to the limit and are always looking for ways to reduce bottlenecks," said Jeremy Mortenson, product marketing manager, Crucial. "With the introduction of Ballistix DDR4, the fastest memory speeds and bandwidths are now more accessible. Along with making peak performance attainable, Ballistix DDR4 also sets up gamers and enthusiasts for the next wave of performance that will only be possible with newer platforms using DDR4."
These modules support Intel XMP 2.0 profiles and are optimised for the Intel X99 platform. Crucial Ballistix Elite DDR4 memory will be made available in August in 4GB and 8GB modules, as well as 8GB, 16GB, and 32GB kits.