Today Crucial and Micron announced a new range of SSD drives called the M550 SSD series (PDF). These drives promise to provide "faster performance, longer battery life and high-capacity storage with an advanced feature set," according to the official press release. The drives will be made available in 2.5-inch, mSATA and M.2 form factors and in capacities of up to 1TB. The 2.5-inch drives are available now but the M.2 and mSATA drives are expected sometime later this year.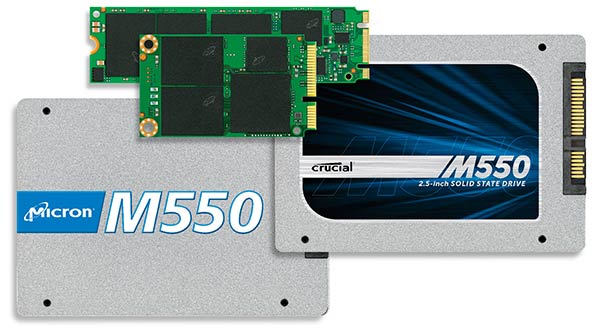 Micron says its new M550 SSDs are designed to "meet the increasingly demanding needs of high-performance computing, ultrathin, and media/video applications". The range boasts significantly faster performance than traditional HDDs at a much reduced power consumption. Thus a new M550 drive will provide users with "quick boot-up, speedy file and program access, near instant wake from sleep, as well as ultra-efficient power management for increased battery life".
Expanding upon the performance claims above, Micron claims that the M550 is capable of performance that is 20X as fast as a traditional HDD while drawing as little as 0.15 watts during its operation. More specific performance and other statistics for the M550 drives are listed in the table below: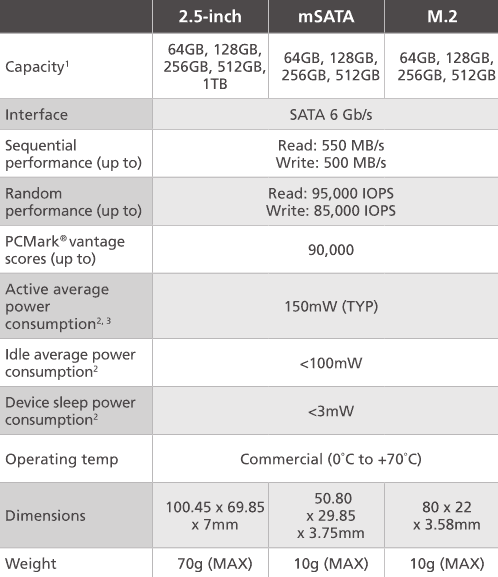 As you can see from the table above, the M550 is capable of the headlining figures of sequential performance (up to) Read: 550 MB/s and Write: 500 MB/s. Also the series can achieve random performance (up to) Read: 95,000 IOPS and Write: 85,000 IOPS. The drives use a Marvell 88SS9189 SSD controller to help get the most out of Micron's 20-nanometer multilevel cell (MLC) flash memory.
Advanced features present in the M550 SSD series include:
Best-in-Class Hardware Encryption: Keeps personal files and sensitive information secure in the event of device theft or loss.
Device Sleep Low-Power Mode: Enables the drive to draw practically no power while in sleep mode and respond instantly when the laptop is opened.
Data Protection: Employs onboard power-loss protection and advanced error recovery techniques to protect the integrity of stored data.
Adaptive Thermal Management: Dynamically adjusts power consumption based on system temperature for ultra-small, thermally constrained systems.
Reliability: Our proprietary RAIN technology (PDF) provides built-in fail-over protection at the NAND level.
Micron also informs us that the drives offer 'Native Write Acceleration' with a controller that doesn't need to use caching or compression.
The Crucial M550 2.5-inch SSD is available in capacities up to 1TB for immediate purchase through select global channel partners or direct through www.crucial.com. Customers get a three year warranty. The Micron M550 range is available to OEMs in a range supplemented by a model with 64GB capacity.