Toshiba has turned to perpendicular recording technology to increase the capacity of 2.5in laptop hard disk drives to 200GB (unformatted). The company is showing its new "best of class" 200GB drive, the MK2035GSS, on its stand (B624) at this week's Computex Taipei show and plans to go into production in August.



The drive, weighing just 98g and standing 9.5mm high, is a Serial ATA II model that's claimed to offer the highest areal density ever achieved - 277.1 megabits per square millimeter. It has two platters, four heads and a rotational speed of 4,200rpm. The buffer is big by the standards of 2.5in drives - 8MB - and average seek time is said to be 12msec.

Check out the company's press release below to see the full specs and fill in any gaps. Then let us have your thoughts on this latest mini marvel from Tosh and on matters perpendicular over in the HEXUS.community.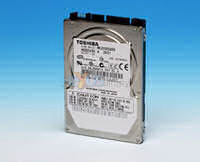 HEXUS.links



HEXUS.community - discussion thread about this article
Computex 2006 - all HEXUS coverage
HEXUS.headline - Seagate's big-boy 750GB HDD
HEXUS First Look taster - 3.75TB of storage in your PC!
Seagate - Perpendicular technology (PDF)
Wikipedia - Perpendicular recording




Toshiba press release





Company's Perpendicular Magnetic Recording Technology Achieves 200GB Drive With Only Two Platters

TOKYO--Toshiba Corporation today announced a new 2.5-inch hard disk drive (HDD) that uses perpendicular magnetic recording technology to achieve the industry's largest (*2) 200GB capacity with only two platters. The new best of class HDD, MK2035GSS, features the highest areal density yet achieved (*1) of 277.1 megabits per square millimeter (178.8 gigabits per square inch). Toshiba plans to start mass production of the drive in August 2006.

"We are delighted to announce the addition of this new 2.5-inch HDD to our line-up of perpendicular magnetic recording HDDs," said Kazuyoshi Yamamori, Vice president of Storage Device Division at Toshiba Corporation's Digital Media Network Company. "Larger data capacity in a small form factor HDD is essential for continued advances in the notebook PC market and in personal audio and video applications. As a global leader in small form factor HDD, we will continue to take technology advances to further generations and provide our customers with breakthroughs in capacity and performance."




Toshiba is a recognized leader in HDD technology and products and a pioneer in applying perpendicular magnetic recording to high capacity products. The new 2.5-inch 200GB drive sets a new benchmark(*1) for areal density of 277.1 megabits per square millimeter (178.8 gigabits per square inch), boosting data capacity to 1.67 times that of Toshiba's highest capacity conventional 2.5-inch drive(*3). The new drive is a slim 9.5 millimeters, as it contains only two hard-disk platters, but nonetheless has storage capacity of 200GB.

Small form factor HDDs are now used in diverse applications, from mobile PCs and to digital audio players. The market has a voracious appetite for larger data capacities, as more powerful networks and applications bring audio-visual capabilities to more and more mobile products, particularly AV notebook PCs. By applying perpendicular magnetic recording technology to 2.5-inch HDD, Toshiba brings much increased data capacity to the industry's mainstream drive, a move that will also sustain the industry trend to thinner, lighter notebook PCs, particularly high-end notebook PC offering high storage capacity.

Toshiba led the storage device industry in the commercialization of perpendicular magnetic recording HDD(*4), and introduced a 1.8-inch perpendicular magnetic recording HDD in May 2005. Toshiba will continue to enhance its HDD business by introducing differentiated drives in small form factors, and take implementation of perpendicular magnetic recording technology all the way through to its industry-leading 0.85-inch drives. As a global leader in small form factor HDD, Toshiba will continue to promote advances in recording density and data capacity and to offer cutting-edge products.

Toshiba will feature the new drive at Computex Taipei 2006, held in Taiwan from June 6 to 10 at booth B624.

*1) The world's highest commercially available areal density, as of June 5, 2006 (Toshiba data)

(*2) The industry's largest commercially available capacity in a 9.5mm high HDD, as of June 5, 2006 (Toshiba data)

(*3) Comparison based on Toshiba's current 2.5-inch 120GB HDD, MK1234GSX

(*4) As of May 2005 (Toshiba data)