QNAP has expanded its range of network-attached-storage solutions with the launch of the TS-x19P II series.
Available in three new Turbo NAS models, the units offer a choice of four-bay (TS-419P II), two-bay (TS-219P II) or single-bay (TS-119P II) storage configurations and are aimed at corporate workgroups, SOHO and home users seeking a budget-friendly solution to backup and file sharing.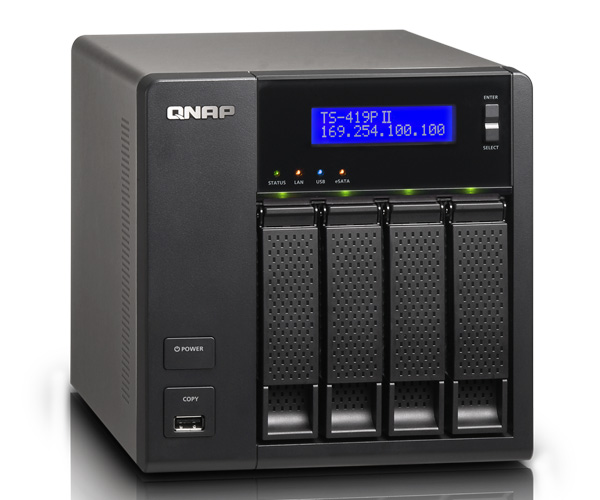 QNAP's yet to mention pricing, so it remains to be seen how "budget-friendly" the trio really are, but it's safe to assume the price tags won't be too dissimilar to the previous TS-x19P+ series that are available at around £400, £270 and £170 in their four-bay, two-bay and single-bay variants.
The new models look practically identical to their predecessors, but while QNAP hasn't changed the chassis, it has re-jigged the interior. All three of the new introductions will feature a 2.0GHz Marvell processor and 512MB of DDR3 memory. That's a touch quicker than the 1.6GHz Marvell CPU used by the previous model, and QNAP reckons the added speed will enable Windows file transfers at speeds of up to 109MB/s.
Decent mid-range performance is combined with excellent energy efficiency, with QNAP claiming to keep idle power consumption as low as four watts.
All three models offer support for 2.5in and 3.5in hard disks, Gigabit Ethernet connectivity, up to four USB 2.0 ports and eSATA. The hardware's promising, and as you'd expect, it's joined by QNAP's comprehensive range of software features - including a built-in UPnP media server and a wide range of backup services.