Toshiba has become the latest manufacturer to announce a 1TB hard disk conforming to the industry standard 9.5mm-high form factor.
Following in the footsteps of Samsung's Spinpoint M8 and Western Digital's Scorpio Blue, Toshiba's new 2.5in drive - dubbed the MQ01ABD100 - features a pair of 500GB platters that operate at a speed of 5,400 revolutions per minute.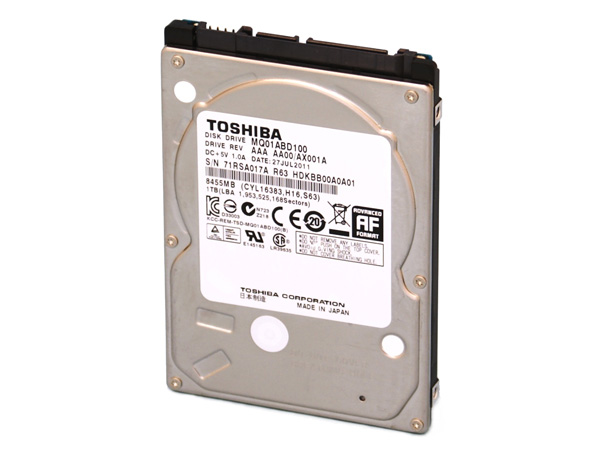 Hooking up to a SATA 3Gbps interface, the drive packs an 8MB cache and has been developed to be Toshiba's most energy efficient solution to date, with the manufacturer claiming "the lowest energy consumption efficiency among similar capacity 3.5-inch (8.8cm) and 2.5-inch (6.4cm) drives from other industry players".
Noise levels are said to be kept under 24dB during seek, and Toshiba's combination of capacity, performance and power efficiency suggests that the 1TB drive will be making its way into a wide range of consumer devices in the very near future.
Although pricing hasn't been revealed, the MQ01ABD100 will be available this month alongside lower-capacity 750GB, 500GB, 320GB and 250GB models. The specification of each drive is detailed by Toshiba as follows:
Model Number
MQ01ABD100, 075, 050, 032, 025
Maximum Capacity (Formatted)
1000/750//500/320/250
Number of platters
2 // 1
Areal density (max)
1153.4Mb/mm2 (744.1Gb/in2 )
Media transfer rate (max)
1288.6Mbps
Average seek time
12 ms
Rotational speed
5400 RPM
Buffer memory
8 MB
Interface
Serial ATA Revision 2.6 (ATA-8)
Interface transfer rate
3 Gb/s
External dimensions (WxDxH; mm)
69.85 mm x 100.0 mm x 9.5 mm
Weight (g)
112//102 g (typ)
Energy consumption efficiency
0.00055/0.00074//0.0011/0.0018/0.0022
Shock resistance:
Operating
Non-operating

3,920m/s2 (400G) 2ms
8,820m/s2 (900G) 1ms
Acoustics:
Idle
Seek

23 // 17 dB
24 // 19 dB