Corsair's Force Series SSDs have already proven to be quick performers, but if the existing 100GB and 200GB models haven't quite lined up with your budget, you might be in luck.
Corsair is today announcing that its range will be expanded to include the F60, F120, and F240 Force Series SSDs, sporting 60GB, 120GB, and 240GB capacities respectively.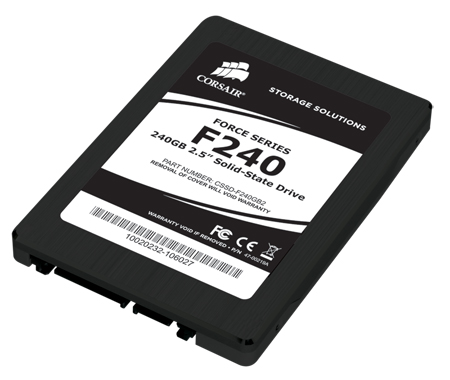 In keeping with existing F100 and F200 drives, Corsair's new additions will continue to make use of a SandForce SF-1200 controller, providing read and write speeds of up to 285MB/s and 275MB/s, respectively.
All five Force Series drives offer support for Windows 7's TRIM command, and Corsair reckons its close relationship with SandForce has resulted in firmware capable of guaranteeing 4K random write performance of 180MB/s.
They're no doubt quick, and if the price of the 60GB Force Series F60 is right, said model could become a popular choice among users in need of a performance-orientated boot drive.
There's sadly no indication of pricing just yet, but we do know that the Force Series F60, F120 and F240 drives will all be available next month.