Corsair has today taken another step in its solid-state drive revamp with the introduction of its high-end Force Series SSDs.
The drives, available in 100GB and 200GB capacities, arrive as ultra-high-performance additions to the mid-range Nova and Reactor series launched earlier this month.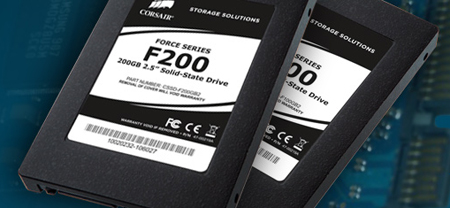 Featuring a SATA 3Gbps interface, both Force Series SSDs make use of Intel MLC NAND Flash memory and a SandForce SF-1200 SSD controller to deliver impressive sequential read and write speeds of up to 285MB/s and 275MB/s, respectively, making these the fastest 2.5in Corsair SSDs to date.
Both drives offer out-the-box support for Windows 7's TRIM command, and come backed by Corsair's two year warranty.
There's no word on pricing as yet, but Corsair tells us that the Force Series F100 and F200 drives will be shipping in around a fortnight.
*Update* UK retailer SCAN.co.uk* now has the 100GB Force Series F100 available for pre-order at a cost of £333.19, whilst the larger 200GB model - the Force Series F200 - is available for £578.44.
*As always, UK-based HEXUS.community forum members will benefit from the SCAN2HEXUS Free Shipping initiative, which will save you a further few pounds plus also top-notch, priority customer service and technical support backed up by the SCANcare@HEXUS forum.