We thought Corsair had signalled its intent with the introduction of four new SSDs yesterday, but clearly it isn't done yet.
Cropping up today is the company's first half-terabyte offering, the 512GB Performance Series SSD.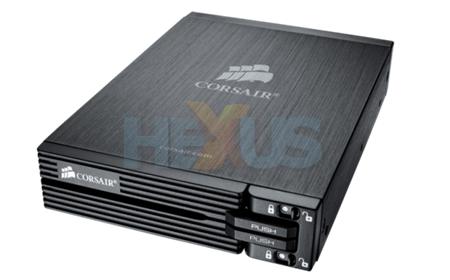 Details on what exactly resides within the 3.5in solution remain slim, but we do know there's a 128MB cache and read and write speeds of 200MB/s and 240MB/s, respectively.
Doesn't look too disimilar to OCZ's Colossus, does it? But we don't think there's a custom PCB inside the unit kitted out with 512GB of flash chips and some form of third-party controller. Why? Well, judging by the picture and the unit's two push buttons, this could well be a caddy containing two of Corsair's 256GB Performance series drives in a RAID configuration.
Performance-wise, it ticks the right boxes, but the massive asking price of around £1,250* will ensure it doesn't appeal to everyone.
Expect to see this behemoth released at next month's CeBIT trade show.
*As always, UK-based HEXUS.community discussion forum members will benefit from the SCAN2HEXUS Free Shipping initiative, which will save you a further few pounds plus also top-notch, priority customer service and technical support backed up by the SCANcare@HEXUS forum.