Remember Corsair's 128GB Flash Voyager GT pen drive, the fastest 128GB pen drive in the world?
Well, it ain't no more, as it's being pipped to the performance crown by Corsair's new-and-improved 128GB Flash Voyager GTR.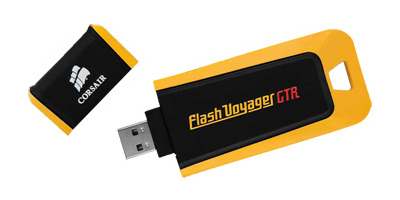 Like the Voyager GT before it, Corsair's 128GB GTR isn't small when compared to other, lesser pen drives, but it does boast speeds that border on the limits of what USB 2.0 can achieve. What we're looking at here are maximum read and write speeds of 34MB/s and 28MB/s, respectively. That's comfortably quicker than the 32MB/s and 25.6MB/s achieved by the existing Voyager GT, which will most likely be pensioned off.
Corsair's latest ultra-large-capacity stick makes use of a quad-channel design through dual controllers, and although its a little chunky, it's clearly a tad smaller than the Voyager GT and far more portable than, say, a 128GB external hard drive. Though, the latter, equipped with eSATA is guaranteed to offer far better speeds if you're willing to carry it around.
At around £270*, the 128GB Voyager GTR is around £45 cheaper than the GT. Positioned to be the best 128GB flash drive on the market right now, it comes backed by a 10-year warranty.
Impressive, sure, but now that we've seen USB 3.0 flash drives in action, we wonder how long it'll be until Corsair itself serves up a quicker, better solution?
*As always, UK-based HEXUS.community discussion forum members will benefit from the SCAN2HEXUS Free Shipping initiative, which will save you a further few pounds plus also top-notch, priority customer service and technical support backed up by the SCANcare@HEXUS forum.