QNAP has today expanded its line of Turbo NAS products with the TS-410U; an entry-level addition to its rack-mounted range.
The NAS server, pictured below, features four hot-swappable SATA drive bays allowing for a total capacity of up to 8TB. Housed in a 1U frame, the TS-410U supports both 2.5in and 3.5in drives and can be configured in a choice of RAID modes - including RAID 0, 1, 5, 6, 5+spare and JBOD. Online RAID capacity expansion and RAID level migration are supported, as is an iSCSI target service with Thin Provisioning and dual Gigabit LAN ports with failover and load-balancing.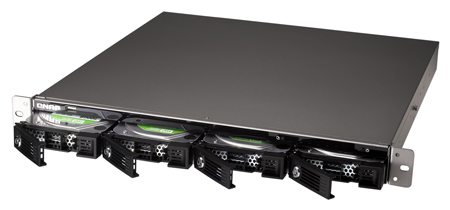 Readers who've been keeping abreast of recent QNAP product launches might find the TS-410U sounds familiar - and it should, it's essentially the recently-introduced TS-410 Turbo NAS repackaged in a 1U rack-mountable chassis.
It's armed with the same 800MHz Marvel CPU, and that's joined by 512MB of DDR2 memory - double the amount of the existing desktop version. In addition to its four hot-swappable bays, the TS-410U also sports four USB ports and two eSATA ports for easy expansion.
QNAP reckons it's the "ideal solution" for business users seeking "high stability, flexible storage expansion and low maintenance costs". If that sounds like you, the TS-410U is currently available from SCAN.co.uk* priced at roughly £500, and QNAP's complete specification can be found over at the official product page.
*As always, UK-based HEXUS.community discussion forum members will benefit from the SCAN2HEXUS Free Shipping initiative, which will save you a further few pounds plus also top-notch, priority customer service and technical support backed up by the SCANcare@HEXUS forum.