After an initial surge of high-performance NAS solutions from many of the industry's big players, QNAP has attempted to make its latest products more accessible to the mainstream consumer by doing away with high-power processors and large quantities of RAM.
This time last week, the Taiwanese outfit launched the four-bay TS-410, a feature-packed offering priced at around £315. Today, it's following up with a two-bay alternative in the form of the TS-210. The good news for readers wanting to dabble in the NAS market is that this one's currently priced at around £175.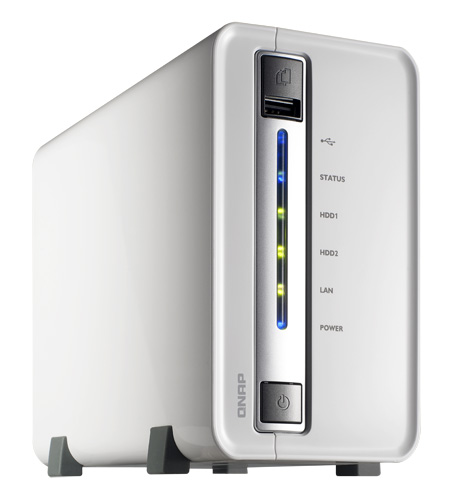 Despite the relatively-low asking price, the TS-210 provides plenty of the usual QNAP functionality. The unit's drive bays support 3.5in drives - providing up to 4TB of storage - and there's a built-in iSCSI target service, Gigabit LAN and three USB ports for easy storage expansion.
As you'd expect, the TS-210 is DLNA-compliant and provides a host of QNAP goodies - including a built-in media server, download station, photo server and an AJAX-based web interface.
Given the price tag, though, there are a few features missing from the spec sheet. Being a two-bay unit, the TS-210 supports only a few RAID modes (0, 1 and JBOD), and the unit's internal hardware - namely an 800MHz Marvell CPU and 256MB of DDR2 memory - might not be the quickest available solution.
Want to know more? Check out the official product page at QNAP.com.