With its sights set on making network attached storage (NAS) solutions more accessible to the home user, QNAP has today expanded its Turbo NAS line with the launch of the Prosumer-orientated TS-410.
The four-bay NAS, pictured below, features a quartet of hot-swappable SATA bays that support both 2.5in and 3.5in drives, giving a maximum theoretical capacity of 8TB.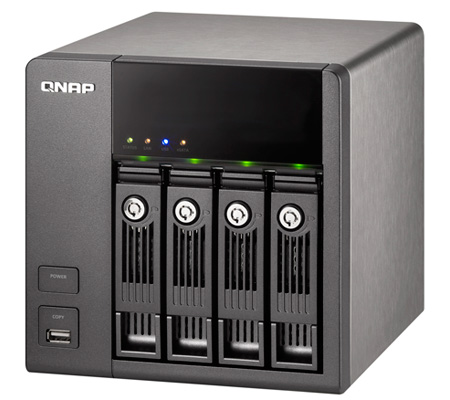 Designed as an "affordable" solution, the TS-410 sheds the high-end hardware found in QNAP's enterprise-orientated models in favour of a Marvell 800MHz CPU coupled with 256MB of DDR2 memory.
There's support for RAID 0, 1, 5, 6, 5+spare and JBOD configurations, and both RAID capacity expansion and online RAID level migration are present. Despite the Prosumer target, the TS-410 also retains a touch of high-end functionality with features such as a built-in iSCSI target service, dual Gigabit Ethernet connectivity, four USB ports and two eSATA ports.
As you'd expect, the unit is DLNA-compliant and provides a host of QNAP goodies - including a built-in media server, download station, photo server and an AJAX-based web interface.
Interested? QNAP has the TS-410 available immediately at a cost of £315.