QNAP has today extended its line of Turbo NAS solutions with the launch of its TS-419P desktop and TS-419U rackmount NAS servers.
Dubbed as 'value-priced' models for the home or small business user, both units sport four hot-swappable 2.5in/3.5in SATA bays with a maximum theoretical capacity of 8TB.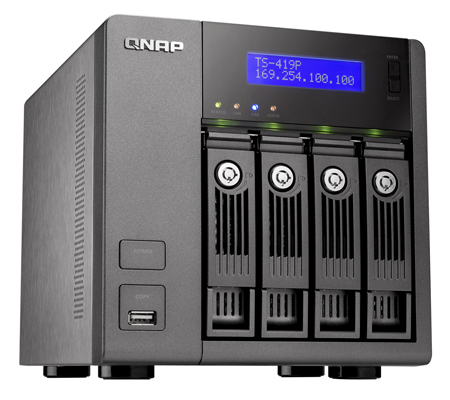 Inside, QNAP has equipped the NAS with a 1.2GHz Marvell processor and 512MB of DDR2 memory. Both TS-419 models allow RAID 0, 1, 5, 6, 5+spare and JBOD configurations, and there's support for online RAID capacity expansion and online RAID level migration.
An iSCSI target service is built in, and each model is equipped with dual Gigabit LAN, four USB ports and two eSATA ports allowing for further storage expansion.

For business environments, the TS-419U (pictured above) squeezes all the functionality into a 1U chassis.
As always, QNAP's Turbo NAS units feature a built-in media server for use with a variety of DLNA-compliant devices, and both the TS-419P and TS-419U are armed with the third-version of QNAP's NAS management firmware.
As for pricing, well, QNAP may be touting the TS-419P as a 'value-priced' solution but the current retail price of £420 is likely to be out of reach for many home users.
Want to take a look at the TS-419's complete feature list? Check out QNAP's respective product pages: TS-419P and TS-419U