QNAP's eight-bay behemoth - the TS-809 Pro Turbo - seemed a colossal storage solution when it arrived on the scene back in February of this year.
However, if the 2.4GHz Intel Core 2 Duo processor and 2GB of DDR2 memory at the heart of the unit left you worried about performance, you'll be glad to hear that QNAP has announced that as of today each and every TS-809 Pro Turbo NAS will ship with a quicker 2.8GHz Intel Core 2 Duo processor.
The change should "significantly improve the performance of the TS-809 Pro for data intensive corporate and entry-level enterprise and data center customers," says QNAP.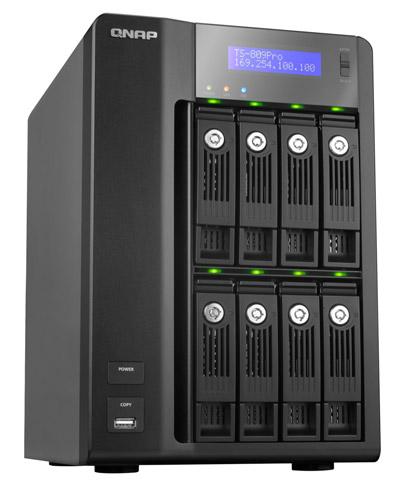 We're told the upgraded units are shipping now, but retail inventories are yet to be updated. To give you an idea of price, the current 2.4GHz TS-809 Pro Turbo NAS can be had for £1,448.99*.
*As always, UK-based HEXUS.community discussion forum members will benefit from the SCAN2HEXUS Free Shipping initiative, which will save you a further few pounds plus also top-notch, priority customer service and technical support backed up by the SCANcare@HEXUS forum.