We thought Corsair hit the SSD (solid state drive) sweet spot with the launch of its P64 and P128 drives late last month.
If you're an enthusiast, however, those Performance-series drives are now yesterday's news as Corsair has just launched its all-new Extreme series.
The Extreme drives, dubbed X128, X64 and X32, are, as the names suggest, available in capacities of 128GB, 64GB and 32GB, respectively. Wanting to up the available performance for the die-hard user, Corsair has swapped out the Samsung controller found in its Performance-series drives in favour of an Indilinx Barefoot controller.
Combined with Samsung MLC NAND flash memory and an on-board 64MB cache, the drives should deliver "blistering, stutter-free performance," says Corsair's vice president of marketing Jim Carlton.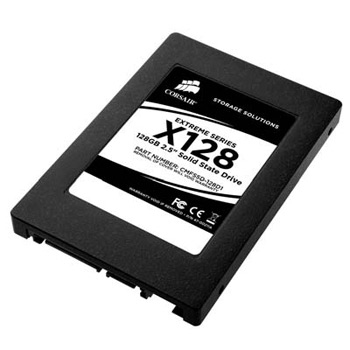 Want numbers? Corsair's quoting sequential read and write speeds of up to 240MB/s and 170MB/s, respectively, for its X128 drive. The lower-capacity X64 and X32 drives, meanwhile, promise sequential read speeds of up to 220MB/s and sequential write speeds of up to 135MB/s.
Highlighting the somewhat fickle nature of SSD performance, Corsair also adds that its Extreme-series drives feature end-user upgradeable firmware to allow for new features to be implemented over time. That's without having to wipe the disk, thankfully.
The quirks of SSDs aside, Corsair's Extreme drives offer plenty enough to give a hard-drive based system a major performance boost, and each model - backed by Corsair's two-year warranty - is available to pre-order from SCAN.co.uk*. Prices at the time of writing are listed as £302.21 for the X128, £177.32 for the X64 and £116.74 for the X32.
*As always, UK-based HEXUS.community discussion forum members will benefit from the SCAN2HEXUS Free Shipping initiative, which will save you a further few pounds plus also top-notch, priority customer service and technical support backed up by the SCANcare@HEXUS forum.