Despite the obvious benefits of solid-state drives (SSDs), the technology isn't without its faults and a number of manufacturers are still working to hard to discover that perfect SSD setup.
Take California's Super Talent, for example. The flash storage and memory specialist has been frequently upgrading its UltraDrive series of SSDs, of which the fifth-generation launched two months ago.
Today, it's at it again and has launched a firmware update - version 1370 - for both its UltraDrive ME and UltraDrive LE models. The update, available via a firmware upgrade tool at www.supertalent.com, supports the Trim functionality of Microsoft's Windows 7 operating system and promises greatly improved performance.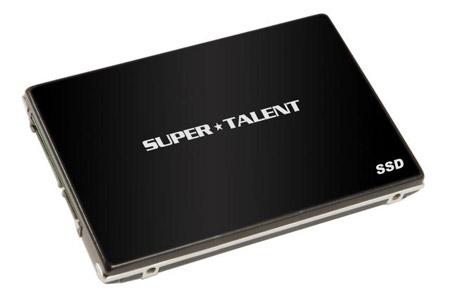 According to Super Talent, UltraDrive ME users will see sequential read and write speeds rise to 260MB/s and 200MB/s, respectively. The enterprise-orientated and SLC-based UltraDrive LE, is said to reach read speeds of 260MB/s and write speeds of 210MB/s.
Impressive numbers, but existing users may be aware that SSD performance can degrade over time. Consequently, Super Talent has made available what it's calling the "UltraDrive Performance Refresh Tool". Although details remain slim, Super Talent states the tool "will clean up your drive while maintaining the data you have on it". Sounds almost like an SSD defrag tool that retains wear-levelling algorithms.
We've yet to give the tool a try, but we reckon it'll be limited to run only on Super Talent's UltraDrive series. Want to know more about SSD performance and the possibility of degradation? Stay tuned for our in-depth look on Monday.