Super Talent has reached out, in the name of flexibility and convenience, to introduce its latest SSD line - UltraDrive MX.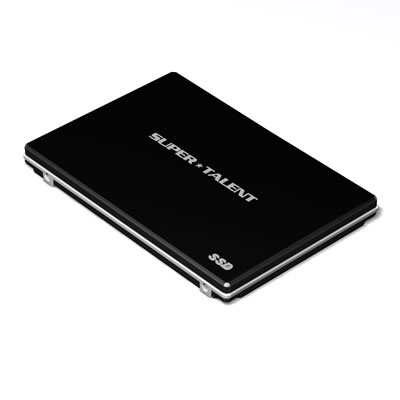 In the same vein as ADATA's recent S596 Turbo, what sets the UltraDrive MX apart from the fray is a dual-interface comprising of both SATA II and mini-USB connectivity - allowing for external usage without the requirement for an enclosure. The ability bestowed to switch between internal and external usage, by Super Talent's account, is a paragon of simplicity.
One particular area of usage the company uses to demonstrate its commitment to convenience, is the transition from traditional storage to SSD, where the user would be empowered to image their existing drive to the UltraDrive MX, using the mini-USB connection and then, switch to internal usage via the SATA II connector, without fanfare.
With JMicron's JMF616 SSD controller taking charge under the hood, read/write speeds are in the range of up-to 250MB/s and 180MB/s, respectively. Noting subtle differences however, it is of interest to point out that ADATA's implementation of the JMF616, reportedly delivers higher quoted speeds of up-to 260MB/s and 210MB/s in the read/write departments.
As we'd expect, TRIM support takes care of long-term performance levels and Super Talent is casting its net out, with a range of capacity options from 60GB to 480GB, with stops along the way at the 120GB and 240GB marks.
Aligned as a 'premium consumer' offering, there is no word on pricing, yet we are told to expect availability in early September.