The race for the biggest-baddest NAS is well and truly under way, and Taiwan's QNAP is chiming in today with its eight-bay behemoth - the TS-809.
Pictured below, this eight-bay enterprise-grade NAS sports a 2.4GHz Intel Core 2 Duo processor and 2GB of DDR2 memory. The eight SATA drive bays officially support up to 12TB of storage capacity, but QNAP expects to certify the use of eight 2TB drives in the very near future. Put two and eight together, and the TS-809 will serve up a whopping 16TB of space.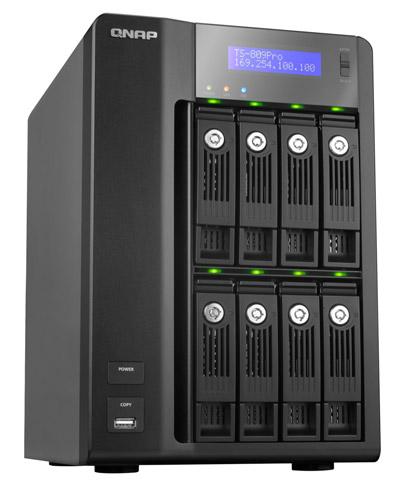 That's a whole lot of storage, but it's worth noting that the TS-809's maximum volume size currently sits at 8TB. Still, two volumes of 8TB apiece isn't bad going.
As you'd expect, it supports an array of RAID modes, features RAID capacity expansion and online RAID level migration. There's all the usual goodies such as failover support and load balancing, and QNAP has thrown in iSCSI support, too.
There's no mention of pricing but we're almost certainly looking at over a grand's worth of NAS. Interested? All the details can be found on QNAP's official product page.
Official press release: QNAP Unveils Intel Core 2 Duo, 8-bay, 16TB iSCSI NAS - TS-809 Pro