James Sherwood of The Register reports:
Toshiba has developed what it claims is the world's first 512GB 2.5in solid-state drive.
The firm said its high-capacity SSD is destined for notebooks, gaming PCs and home entertainment systems.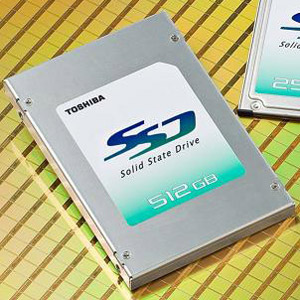 Toshiba's drive has a 3Gb/s SATA interface and a maximum sequential read speed of 240Mb/s. Its maximum sequential write speed is 200Mb/s, Toshiba claimed.
It's worth noting that the drive's read speed blitzes the reading swiftness of Samsung's 256GB SSD by 20Mb/s, although both drives still share the same sequential write speed.
Mass production of Toshiba's drive, which will carry the THNS512GG8BB product number, is expected to begin in Q2 2009. A price hasn't been punted across yet.