Back in September 2005, Corsair announced its high-speed 2GB Flash Voyager USB drive and we all found it to be a pretty cool gadget - not to mention useful.
Fast forward three years, and the memory-specialist is announcing that its 64GB Flash Voyager is now available - just nine months after the launch of its 32GB model. Naturally, it's a whole lot cooler, and a whole lot more useful.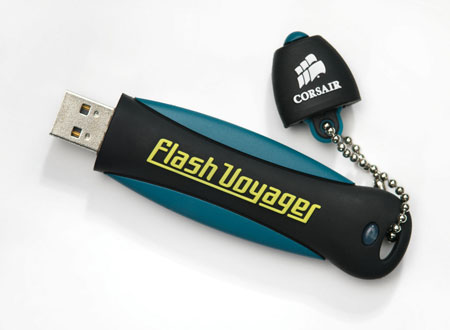 The drive, pictured above, measures just 100mm x 25.6mm x 14.8mm, and provides read and write speeds of 24MB/s and 10MB/s, respectively. It resembles the Flash Voyager drives we're all used to, and offers a rugged rubber casing that's easy to grip, shockproof and water resistant.
As you'd expect, the 64GB Flash Voyager is Plug & Play compatible, carries a ten-year warranty, and includes the True Crypt security application for virtual AES-256 drive encryption under Windows Vista, Windows XP or Windows 2000.
HEXUS Where2Buy
The Corsair 64GB Flash Voyager can be purchased from cclonline.com for £149.99