Qnap had a diverse range of products on show at the CES this week. However, it didn't go wild, keeping a focus on storage and networking but introducing some AI and new cloud experiences to the range spanning personal, SMB and enterprise products.
Loading...
Been waiting a while?
Get Flash
to see this player.
Eric Oliveros, Marketing manager Qnap USA, kindly showed us his wares
A highlight among the products announced, and winner of Qnap's buzzword bingo prize, is the new TS-2888X AI-Ready NAS. It provides an IOPS-optimized storage infrastructure that accelerates AI workloads plus the QuAI AI developer package enables a range of open-source tools and frameworks (including Caffe, TensorFlow, AlexNet, FaceNet, and more) for AI workflows.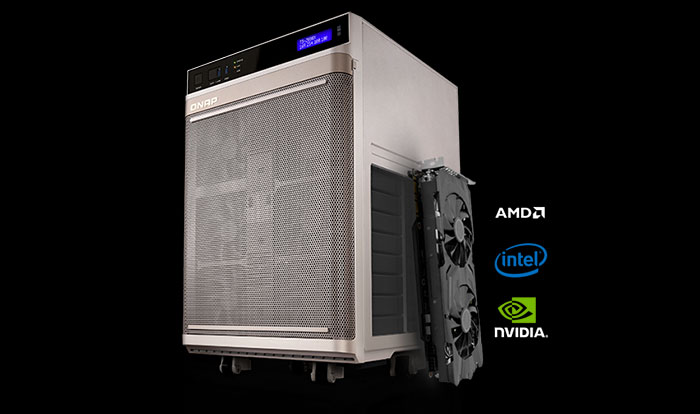 Oliveros showed us the refreshed Guardian QGD-1600P that integrates NAS, managed switch, and Power over Ethernet (PoE)​ capabilities. This devices packs an Intel Celeron J4105 processor, two 2.5-inch SATA drive bays, two PCIe slots, and one HDMI output. Running the QTS OS it can run virtual machines, containerized apps, and video surveillance apps. Furthermore, it acts as a 16-port managed switch.
Moving onto some small storage/networking gadgets, Qnap's marketing manager showed us the cute QuLaLa - a portable external 2.5-inch storage with Thunderbolt 3 and management app. You can fit any kind of 2.5-inch drive yourself in this basic portable product which also plays nicely with iOS devices. Next, Oliveros picked up a compact Thunderbolt 3 to 10GbE adaptor which might be particularly useful for some thin-and-light laptop users.
The Qnap HS-453DX Silent Multimedia NAS, as launched in November, was on show as was a larger version that supports more drives. We also saw the new TR-004 which is a direct attached storage device - 2 bay or 4 bay versions of this Thunderbolt 3 NAS will be available.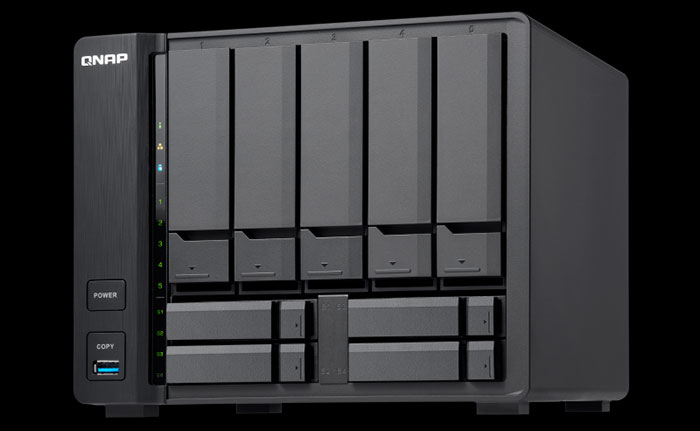 Moving up to SMB devices and the TS-932X is one of the firm's new 9-bay form factor NAS devices (pictured above). Interestingly, it combines five 3.5-inch SATA and four SSD bays and uses an intelligent algorithm to keep the hot data on the faster SSDs while less frequently accessed cold data is shuffled along onto HDD.
Lastly, Qnap told us about their new Thunderbolt 3 NAS series with 4, 6 and 8 bay options, aimed at creatives, and a revamped AMD-Ryzen powered NAS series with 6, 8, or 12 bays.