Innovation is always difficult but innovation in computer power supplies is difficult and unusual. So while visiting Gigabyte's stand and being introduced to yet another PSU range, I probably wasn't at my most attentive.

That changed, though, when I started to pick up on what was being said about P-Tuner - software that provides previously unheard of levels of information and control over the PSU.

Pictured below is the ODIN GT, a semi-modular PSU available in capacities of 550W, 680W and 800W. It has four +12V rails and, but for the fan and temperature sensor headers on the rear, you'd be forgiven for thinking it's another me-too unit.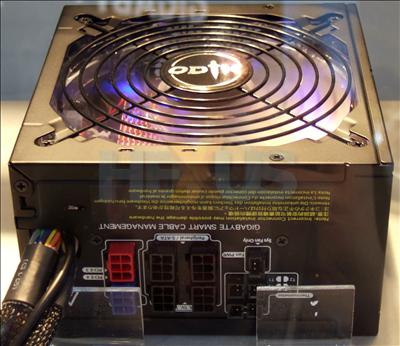 Oh how wrong you'd be, though. After connecting the PSU's hard-wired USB lead to your motherboard and installing the supplied P-Tuner software, you'll be provided with a wealth of information you didn't even know you wanted!

Need to know the total wattage being consumed? You've got it! Voltage levels? Check! Current being drawn per rail? Absolutely! PSU fan-speed and temperature? Of course! P-Tuner reports them all.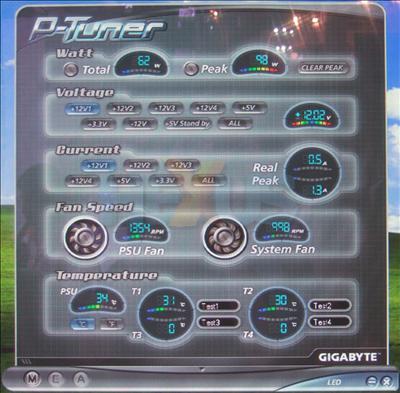 In addition, you can also set alarms that alert you if certain performance values go outside your specified values.

There are also alarm options for fan-speed, temperature, wattage, voltages (actually, only +12V, +5V and +3.3V) and current ("only" +12V1, +12V2, +12V3, +12V4, +5V and +3.3V).

Sound good? Well, there's more. You can adjust fan-speed automatically or manually and set rail-voltages within ATX specifications - +12V (all together not individually), +5V and +3.3V.

Most DirectX and OpenGL games are designed to run full-screen and will make all this information inaccessible but Gigabyte has thought of that as well.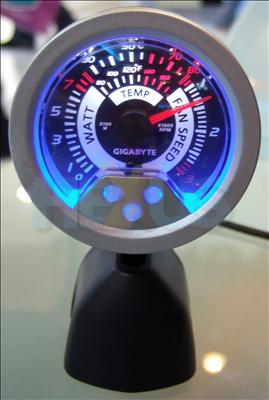 Buying the optional USB Gauge, lets you monitor some of the PSU's performance values at the press of a button - total wattage, temperature and fan-speed.

The ODIN GT range of PSUs with P-Tuner software should be available some time in July. Me, I can't wait!