Remember the cool-looking XFX power supply we first saw back at COMPUTEX 2009? Well, that very unit - dubbed the XFX Black Edition 850W - is launching today.
XFX's black-and-green design helps make the PSU stand out, but the Black Edition 850W isn't just about looks.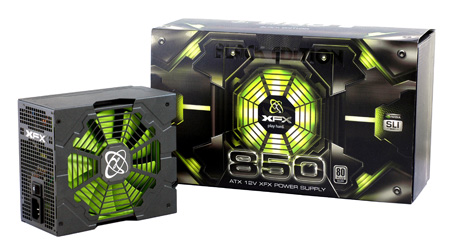 XFX promises 850W of continuous power at 50°C, and it has seen fit to equip the unit with a single +12V rail - adding that it believes a single rail offers the best combination of performance and compatibility.
The modular power supply supports both NVIDIA SLI and ATI CrossFire setups, and is built using high-quality Japanese capacitors and solid polymer caps. XFX tells us the unit achieves an efficiency rating of 88 per cent - that's enough to get it an 80 PLUS Silver certification.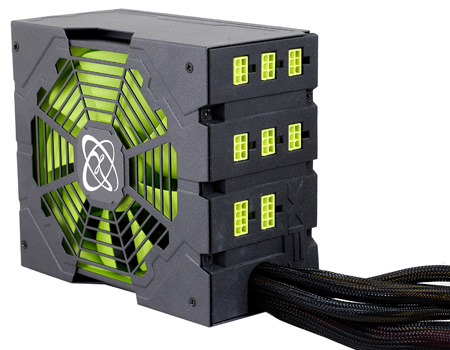 Cooling is provided by a "very quiet" 135mm ball-bearing fan, and XFX backs the power supply with a five-year limited warranty.
We're told to expect an MSRP of $199.99 USD + VAT, but UK customers can find the XFX Black Edition 850W listed at SCAN.co.uk* at a cost of £149.33. Want the HEXUS verdict before you buy? Stay tuned for our upcoming review.
*As always, UK-based HEXUS.community discussion forum members will benefit from the SCAN2HEXUS Free Shipping initiative, which will save you a further few pounds plus also top-notch, priority customer service and technical support backed up by the SCANcare@HEXUS forum.