We came across a rather hefty PSU when dropping in to see SilverStone at this year's COMPUTEX trade show.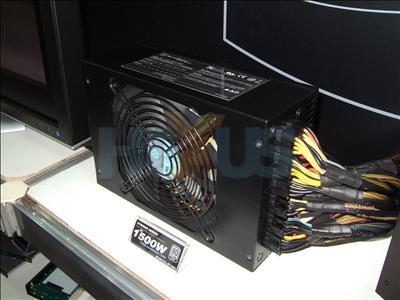 The Strider ST1500 ships with a 1,500W rating, as the name implies, rising to 1,600W under peak conditions - the highest we've seen for an in-the-case supply. Busting out the tape measure, the big-daddy SilverStone measures 220mm x 150mm x 86mm (WxHxD) so most large chassis should be able to accept it.

Completely modular in design, the package has, cable-wise, four eight-pin PCIe, eight six-pin PCIe, and 12 SATA connectors, along with a bunch of Molexes and main 24-pin and eight-pin plugs.

The enormous wattage is put to good use, providing eight 12V rails (25A limit each) with a combined 110A, and we were a little surprised to learn that the ST1500 had passed the 80PLUS Silver certification with 85-88 per cent efficiency over a wide-ranging load, although it's yet to appear in the records.

SilverStone reckons the single 135mm fan is good enough to keep the beast cool, operating at between 19-34dBA, but we wonder just what kind of rig would require up to 1.5kW.

Got the moolah? It should etail for around $450.