We lurve our KVM switch-boxes. They let us control multiple PCs from a single keyboard, monitor and mouse - saving money and a heck of a lot of desk-space.

Trouble is, the switch-boxes themselves aren't tiny and do take up more room on the desk than we'd like, so we were kind of smitten by the aptly-named PETITE range of KVMs shown by ATEN at COMPUTEX.

On the downside, all PETITE models are able to control only two PCs, when our preference would be four PCs.

On the upside, all have hard-wired cabling, are able to auto-scan the attached PCs and also let you choose which to control from a hot-key combination.

First of the bunch is the CS62DU.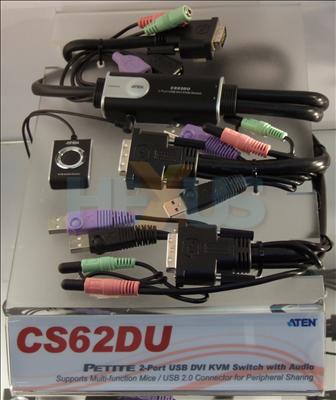 This is a USB model suitable for use with DVI-equipped graphics cards and monitors with resolution up to 1600x1200. It can handle the audio - including microphone - from the two PCs and, nice touch, lets you independent switch the KVM and audio!

Other features are multi-function mouse support and a removable remote-selection switch.

Similar in virtually every detail - except that it works with a PS/2 keyboard and a PS/2 mouse - is the no-less-endearingly-named CS62D.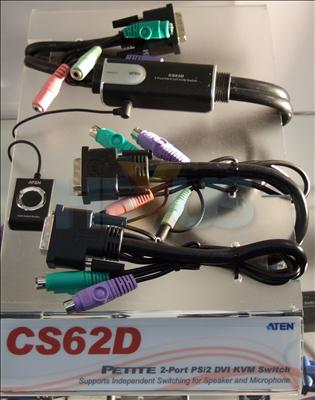 The CS52D is more of the same but a hybrid that uses PS/2 for the keyboard and USB for the mouse.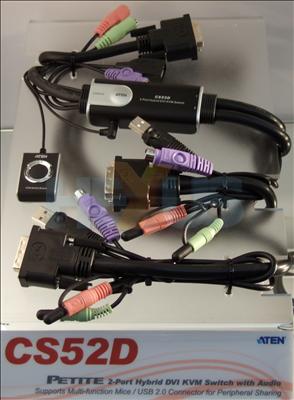 Depending on your viewpoint, the next model, the CS52A, is either a step-down or a step-up from the CS52D. It's a hybrid that uses standard VGA connectors but supports resolution of 2048x1536 - somewhat higher than the DVI variant .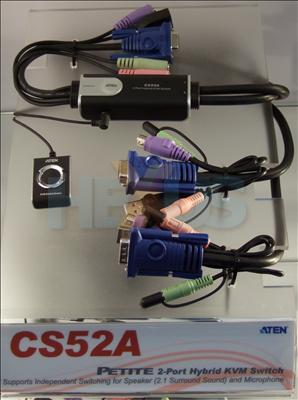 Base model - but still a hybrid with VGA at high-resolution - is the CS52. What the CS52 lacks, though, is any audio pass-through or switching.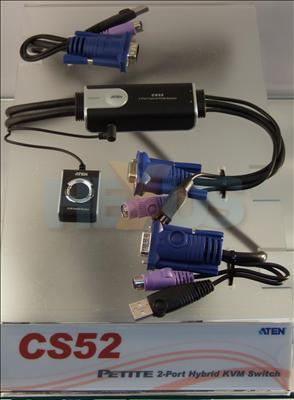 The CS52D, CS52A and CS52 are already available; the CS62D and CS62DU should be on sale in July or August.

Now if only ATEN would come up with four-PC variants that were much the same size as the two-port models - and supported USB and PS/2 keyboards and meece simultaneously - we'd be VERY happy indeed. Don't ask for much, do we?