Kyocera claims to have made the world's fastest 300 dpi inkjet printhead. The amazing speed of the printhead is quoted as running at 152 metres every minute. This equates to over 2.5 metres of output per second or about 8.5 lengths of A4 paper in a second!
The special design of this inkjet combines two colours into one printhead unit. This design halves the number of required printheads, and thus makes the printer capable of being cheaper and more compact. As each printhead has a printable width of 112mm several are used to make up the width of the page (look at the image below). This printable width figure is also a world beater "the world's widest effective print width of 112m means that fewer printheads are needed, facilitating simpler equipment design even when wide-width printing is required". In Kyocera's very fast commercial inkjet printing systems the printheads don't move side to side to cover the page, that would be a waste of time!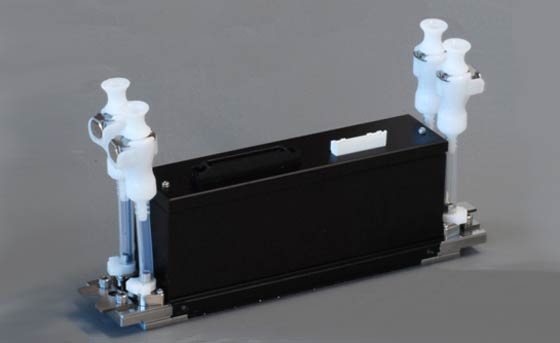 Whilst the combined two colour printhead may be useful for some commercial applications there is a problem in mixing inks from the same printhead to make secondary colours. Kyocera say "The 300dpi model's nozzle configuration prevents the mixing of inks at the point of contact with the printed material - a potential problem when printing two colors simultaneously from the same printhead - ensuring that the new two-color printhead delivers quality printed images." It is indeed a problem for colour accuracy but may be acceptable for some business graphics depending upon the colours used. For instance, it might be useful for outputting spot colour corporate printing work. Despite the potential colour pitfalls the speed achieved is great for such a compact solution.

There are of course competitors in the high speed inkjet printing field. Kodak makes the Prosper inkjet printing system which prints at a resolution of 600x300 dpi and can output at speeds of up to 610 metres per minute, you can see such a system in action here. This may not be comparing like for like as I think the intended markets for the Kyocera and Kodak commercial printers might be very different. (desktop vs factory)
Higher printing resolutions
Previously Kyocera has also mass-produced "600dpi and developed 1200dpi inkjet printheads that achieve the world's fastest high-resolution print speed" in those categories. These units don't have the two colour printhead colour mixing problem.
Samples of the new 300 dpi unit will be available before the end of 2012 and we hope to see them in action shortly after that.